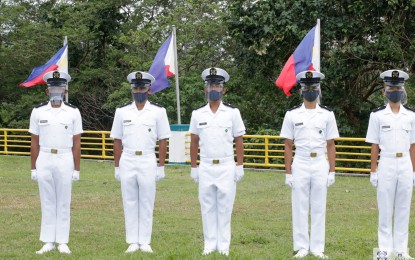 MANILA – A merchant marine industry insider said efforts are underway to upgrade the curriculum of local maritime academies amid fears that tens of thousands of Filipino seafarers will lose their jobs if they fall short of certain international standards.
In an interview on Sunday, Julius Magpantay, a former faculty member at the Maritime Academy of Asia and the Pacific (MAAP) in Mariveles, Bataan, said the Maritime Industry Authority (MARINA) and the Commission on Higher Education (CHED) are jointly working to address perceived weaknesses in the curriculum of Philippine maritime schools, especially in the area of safety.
He noted that MAAP and other maritime academies expect to receive new teaching guidelines as soon as the two regulatory agencies release the improved syllabus.
Magpantay, himself a deck officer, added that the publication by the MARINA and CHED of course upgrades are imminent, and they "will be implemented immediately" without waiting for the next school year.
"The (Philippine maritime) industry recently got a reprieve when the European Commission (EC) decided to continue recognizing safety certifications issued by the MARINA. We owe this to the intervention of the Philippine government. About 30 percent (of) Filipino seafarers, including both officers and ordinary seamen, were at risk (of job loss)," said Magpantay.
The ones who were in most danger were those working for European Union-based shipping companies because it was the European Maritime Safety Agency that pointed out the deficiencies
In April, Adina Văean, the EC's commissioner for transport, announced that the 27-nation bloc decided to consider the safety certifications issued by MARINA after "constructive cooperation" with Philippine authorities, recognizing their "efforts to improve the system for training and certifying seafarers."
The EC's move staved off what could have meant unemployment for up to 50,000 Filipino sailors.
Meanwhile, the Trade Union Congress of the Philippines (TUCP), through its affiliate, the Associated Philippine Seafarers' Union, proposed that "ship owners, employers, and the government provide the appropriate policy and program support for the continuing education and upskilling of Filipino seafarers, that they may retain their jobs or transition to suitable positions, amidst disruptions brought about by the 4th industrial revolution (Industry 4.0)."
In a statement, the labor union said seafarers' jobs will be affected by the coming fourth industrial revolution in maritime fuels and networked digital information systems, which will happen as an inevitable result of the international maritime industry's commitment to de-carbonization in response to the threat of climate change.
TUCP urged the government to take the necessary steps to improve the competency of Filipino sailors to "ensure that they remain the preferred international hire." (PNA)