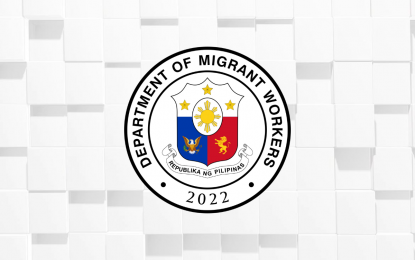 MANILA – President Ferdinand R. Marcos Jr. has directed the Department of Migrant Workers (DMW) to explore the possibility of making the application for Overseas Employment Certificate (OEC) free of charge.
In a statement on Sunday, the Presidential Communications Office (PCO) said the President issued the directive during a meeting with the DMW, Bureau of Immigration (BI), and Department of Information and Communications Technology (DICT) in Malacañang Palace.
During the said meeting, the DMW also presented the DMW Mobile App which aims to "make an overseas Filipino worker's (OFW) journey easier."
The app contains the OFW Pass, a digital and secure version of the OEC which serves as the digital identity of workers.
After a two- to three-month transition period upon activation, the OFW Pass will completely replace the OEC.
The OFW Pass and OEC have significant differences.
The OFW Pass is QR-code generated and can be acquired only through the app, while the OEC requires onsite processing with a PHP100 charge.
The OFW Pass is valid until the expiration of the OFW's work contract, while the OEC lasts for only 60 days.
Those who can avail of the OFW Pass are first-time OFWs; returning OFWs or those vacationing in the Philippines but will go back to same employer; and OFWs who have transferred to a different employer or whose contracts need to be registered and verified by the Office of the Labor Attaché.
In his inaugural State of the Nation Address in 2022, President Marcos directed the DMW and the DICT to automate the verification of contracts and issue OECs that can be stored on smartphones.
DMW Secretary Susan Ople said Marcos welcomed the development of the mobile application as it is a simple yet effective digital solution to the OEC problems encountered by OFWs when seeking jobs abroad.
She said the mobile application is for free as the government's way of honoring the country's "modern-day heroes."
"His mandate was to make sure that our OFWs will not pay when using the app and when they download the OFW Pass," said Ople.
DMW is currently waiting for the approval of the DICT, maybe within the week, for the official launch of the DMW Mobile App to ensure its cybersecurity features.
To disseminate the app, the DMW established the OFW Pass Teacher, a volunteer system where registered OFWs will be given relevant materials to teach other OFWs how to utilize it.
The agency is also expected to integrate its mobile app with the BI's eTravel and e-Gate systems and eventually link it to DICT's eGov PH Super App.
Google Play and Apple App Store both approved the app for downloading. (PNA)