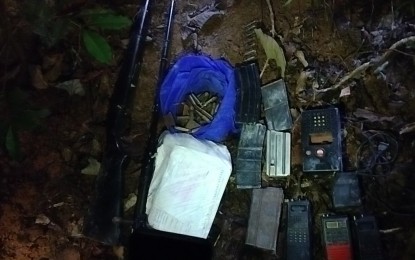 BACOLOD CITY – The Philippine Army is intensifying efforts to locate more firearms stashed by the New People's Army (NPA) to prevent the communist rebels from making up lost ground in Negros Island.
Maj. Gen. Marion Sison, commander of the 3rd Infantry Division (3ID), gave the assurance as he commended the joint police and military forces for the recovery of a cache of firearms in the hinterlands of Calatrava, Negros Occidental over the weekend.
"We will carry on in stepping up our military and non-military operations to recuperate more loose firearms and defuse the remnants of the communist-terrorist group in Negros Island," Sison said in a statement on Monday.
The operation on July 8 was conducted by troops of the 79th Infantry Battalion together with personnel of the Philippine National Police's Regional Mobile Force Battalion-Western Visayas, 1st Negros Occidental Provincial Mobile Force, and 6th Special Action Battalion, Special Action Force upon receiving information from the locals that led them to the location in Sitio Bandol, Barangay Maaslob.
They recovered an M14 rifle with a magazine containing live ammunition, M16 rifle magazines, clips for Garand rifle, commercial radios, and subversive documents believed to have been hidden by the remnants of the dismantled NPA Northern Negros Front.
Brig. Gen. Orlando Edralin, commander of the 303rd Infantry Brigade, said the recovery of the arms cache is "a significant blow to the NPA's capacity to carry out its destructive acts".
"It also serves as a clear warning that law enforcement agencies in Negros Occidental remain committed to ensuring the safety and security of the people, and are relentless in the pursuit of those who seek to sow terror and disorder," he added.
Meanwhile, in central Negros, troops of the 94th Infantry Battalion also recovered an M4A1 rifle with magazines loaded with ammunition along with backpacks, personal items, and copies of extortion letters after a series of clashes in Barangay Carabalan, Himamaylan City on July 7.
The body of a still unidentified NPA fighter, who died during the second encounter, was left behind by his comrades, the report said. (PNA)