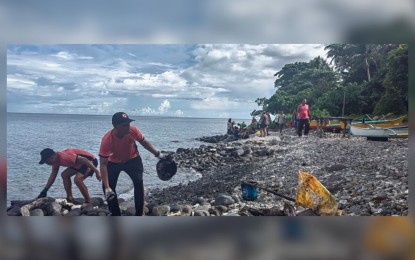 TACLOBAN CITY – The Department of Social Welfare and Development (DSWD) regional office here assured assistance for over 1,000 residents affected by the oil spill near the port of San Ricardo town in Southern Leyte.
In a statement on Monday, the DSWD said Regional Director Grace Subong has already coordinated with San Ricardo Mayor Roy Salinas to discuss the forms of assistance.
The oil spill on July 7 that affected 297 families or 1,117 individuals was reported to authorities Sunday.
"The villages of Benit and Timba were the most affected as the oil spill was seen to be within one kilometer of the municipal waters," the DSWD regional office said.
Of the 1,117 individuals affected by the oil spill, 782 are from Benit and 335 are from Timba.
The Philippine Coast Guard (PCG) reported on Monday that they are still investigating two vessels to determine the cause of the oil spill.
The Coast Guard Southern Leyte Station took samples from the oil that spilled into the sea to match them with those of the two suspected vessels -- LCT Georgia-1 and MV San Ric Ferry 20.
Coast Guard Southern Leyte Station commander Lt. Commander Donna Liza Duran reported on their official Facebook page that there were only minimal traces of oil left in the affected vicinity waters.
"Hence, there was no need to lay an oil spill boom for containment. However, the team continued cleanup operations as they still observed traces of oil along the shoreline. On July 8, the team collected five sacks of oily debris along the shoreline of Benit village," Duran said.
Personnel from the PCG, local government officials, and volunteer residents have been participating in oil spill cleanup activities since July 8. (PNA)