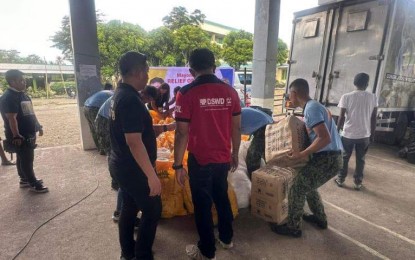 MANILA – The government has extended some PHP150.4 million worth of aid to residents affected by the unrest of the Mayon Volcano which has now entered its fifth week.
In its update Tuesday, the National Disaster Risk Reduction and Management Council (NDRRMC) said the assistance includes collapsible jerry cans, distilled waters in 6-liter bottles, drums, family food packs, family tents and kits, financial and fuel aid, hog grower feeds, hygiene kits, KN-95 face masks, knapsack sprayers, laminated sacks, "malongs," modular tents, nets, nylon ropes, rice, ruminant feeds, siphoning devices, sleeping kits, surgical masks and tarpaulins.
Meanwhile, the NDRRMC said that the affected population is placed at 9,867 families which is equivalent to 38,376 individuals.
Of this number, 5,360 families or 18,710 persons are being aided in 26 evacuation centers while 408 others or 1,431 are being helped outside.
These numbers are subject to change as validation is constantly ongoing.
Earlier, the Office of Civil Defense said affected families were a combination of those displaced and those not needing evacuation.
Also, the NDRRMC said there are 47 search-and-rescue (SRR) teams on standby and these are from the Armed Forces of the Philippines (AFP) and (Bureau of Fire Protection).
These SRR teams are backed up by 148 mobility assets, which could be broken down into 17 air, 103 land and 28 water, coming from the AFP and the BFP. (PNA)