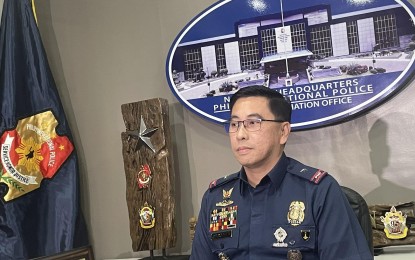 MANILA – The Philippine National Police (PNP) on Tuesday said it is set to release the five Chinese suspects allegedly behind the operations of a suspected illegal Philippine Offshore Gaming Operator (POGO) raided in Las Piñas City late last month.
In compliance with the July 3 order from the Department of Justice, the PNP would free Li Jiacheng, Xiao Liu, Yan Jiayong, Duan Haozhuan, and LP Hongkun for further preliminary investigation.
"The legal officer of the Anti-Cybercrime Group (ACG) said the five Chinese nationals would be freed but they have yet to be fetched or received by a representative or their counsel. We continue to coordinate with their counsel so we can turn them over and we also continue to coordinate with the Bureau of Immigration (BI) on this matter," Brig. Gen. Redrico Maranan, PNP public information office chief, said in a Laging Handa briefing.
The five were the subjects of search warrants that led to the ACG's June 27 operation at Xinchuang Network Technology, Inc., located along Alabang-Zapote Road in Barangay Almanza Uno, for alleged human trafficking.
Maranan insisted the raid at the POGO hub was a legitimate operation and that they acted under the authority of valid search warrants issued by the court.
He also said they will "take note" of Justice Secretary Jesus Crispin Remulla's advice to be circumspect at all times in the conduct of future raids to ensure airtight cases that can withstand scrutiny in courts.
"First of all, we will have a case buildup when we have such kinds of information. We first gather important information and validate the information we get. The next thing is to apply for a SW (search warrant), that's why we will go to court, we will present to the court the evidence we gathered during the investigation and surveillance and once we have presented it to the court and it is convinced that there are violations occurring, The court will issue SW," Maranan explained.
In the case of the raid in Las Piñas City, Remulla said he received reports of insufficient pre-raid preparations and that officials failed to pinpoint those liable and for what charges.
In a separate interview, PNP spokesperson Col. Jean Fajardo said they have requested the BI to take into custody the five Chinese suspects who do not have passports or proper identification documents.
"We officially endorsed them in the form of a formal letter because they are undocumented aliens. We cannot just release them because the PNP might be blamed if something happens to them. The BI's mandate will now be applied on this case," Fajardo said in a separate phone interview with reporters in Camp Crame. (PNA)