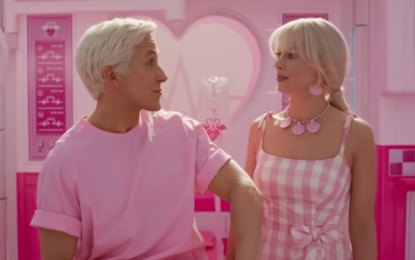 MANILA – The Movie and Television Review and Classification Board (MTRCB) will not ban the movie "Barbie," according to Senator Francis Tolentino on Tuesday.
Tolentino had urged the MTRCB to block the upcoming screening of the movie after one scene showed a digital illustration of the supposed "nine-dash line" of the Chinese government in the South China Sea, a point of contention among neighboring nations including the Philippines.
The letter, sent to the media via Viber message, said the MTRCB "exhausted all possible resources in arriving at the decision."
"The Board believes that, all things considered, it has no basis to ban the film 'Barbie' as there is no clear nor outright depiction of the 'nine-dash-line' in the subject film, in comparison to films such as 'Abominable' and 'Uncharted'," read the letter signed by MTRCB chairperson Diorella Maria Sotto-Antonio.
Following a request from the Department of Foreign Affairs (DFA) last year, the MTRCB halted the screening of action movie "Uncharted" because of its depiction of the '"nine-dash line" claim.
In 2019, the DFA also requested the MTRCB to pull out the animation movie "Abominable" for the same reason.
"The MTRCB will continue to uphold the best interest of the Filipino people. To this end, we will issue a stern warning to all filmmakers/producers/distributors that the Board will continue to sanction, disallow, or ban films portraying any kind of depiction of the 'nine-dash line'," it added.
In a video message, Tolentino said he respects the Board but was saddened by its decision.
"Tayo po ay nalulungkot dahil bukas po 'yung ikapitong anibersaryo ng pagkapanalo natin sa Arbitral Court kung saan pinawalang-bisa yung 'nine-dash line' (We are saddened by the decision because tomorrow is the seventh anniversary of our win in the Arbitral Ruling which dismissed the 'nine-dash line' claim)," he said.
Tolentino said he respects the MTRCB verdict but is concerned about the continuous seizure attempt of China on Philippine territories.
Prior to Tolentino's call, the Vietnamese government already decided to ban the screening of the film following its own review.
Based on the MTRCB review, "the dash lines attached to a landmass labeled 'Asia' is not U-shaped, and has eight dots/dashes instead of nine."
The review also noted that the Philippines, Malaysia, and Indonesia are not visible on the map shown in the movie.
Before consulting with the DFA, Office of the Solicitor General and West Philippine Sea experts, the MTRCB told Tolentino that "Barbie" underwent a meticulous screening with discussions and deliberations by the members of its Review Committee.
The MTRCB likewise requested the film's distributors, Warner Bros., to blur the lines.
The Board also informed Tolentino that its Review Committee has given a Parental Guidance (PG) rating on the movie, which means that viewers 13 years old and below must be accompanied by a parent or a supervising adult. (PNA)