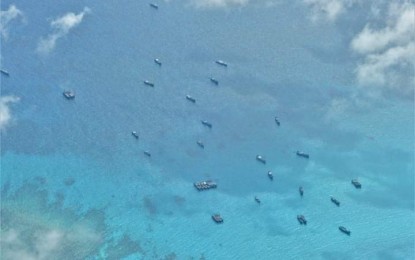 MANILA – Cagayan de Oro City (2nd District) Rep. Rufus Rodriguez on Wednesday urged the Marcos administration to insist on China's compliance with the July 12, 2016 ruling of the Permanent Court of Arbitration invalidating Beijing's sweeping claims over the resource-rich South China Sea.
"Our government should mark this day with more vigor and more forceful assertion of the ruling and our victory," said Rodriquez in a statement issued on the seventh anniversary of the country's victory at the United Nations-sanctioned arbitral tribunal.
He added that China "should now abide by the ruling" by abandoning areas within the Philippines' exclusive economic zone (EEZ) it has occupied, and by ceasing to harass and bully Philippine vessels, including small boats and Filipino fishermen.
Meanwhile, the Mindanao lawmaker, who has been a consistent critic of China's encroachment and aggressive activities in the West Philippine Sea and the country's EEZ, welcomed and lauded the support extended by the United States, the European Union and 16 European nations for the 2016 arbitral ruling.
Rodriguez said the expressions of support of the US and European countries "shows that China has become a pariah insofar as the 2016 arbitral ruling and its harassment and bullying activities in the South China Sea are concerned."
"Thanks so much (to) our big ally and treaty and economic partner, the United States of America, our supporters in Europe, and all supporters," he said.
In a statement on Tuesday, the US State Department pointed out that under the terms of the Convention, the ruling is "final and legally binding" on the Philippines and China.
"We continue to urge Beijing to comport its maritime claims with international law as reflected in the 1982 Law of the Sea Convention; cease its routine harassment of claimant state vessels lawfully operating in their respective exclusive economic zones; halt its disruption to states' sovereign rights to explore, exploit, conserve, and manage natural resources; and end its interference with the freedoms of navigation and overflight of states lawfully operating in the region," the statement read.
"We will continue working with allies and partners to advance a free and open Indo-Pacific, one that is at peace and grounded in respect for international law," it added.
On Tuesday, The European Union delegation to Manila and the embassies of Belgium, Czechia, Denmark, Germany, Ireland, Greece, Spain, France, Italy, Netherlands, Poland, Austria, Romania, Slovakia (non-resident), Finland, and Sweden also issued a joint statement renewing support for the 2016 Arbitral Ruling.
"The Award of the Arbitral Tribunal is a significant milestone, which is legally binding upon the parties to those proceedings, and a useful basis for peacefully resolving disputes between the parties," it read.
"The EU reiterates the fundamental importance of upholding the freedoms, rights and duties established in UNCLOS (United Nations Convention on the Law of the Sea), in particular the freedoms of navigation and overflight," it added. (PNA)