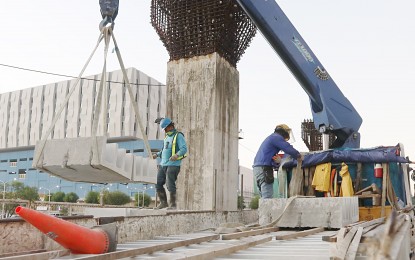 MANILA — Further investing in infrastructure, providing relief to agrarian reform beneficiaries, enhancing international economic ties and further reopening the economy are some of the highlights of President Ferdinand Marcos Jr.'s first year in office, economists said.
"The PBBM administration has done many different things spanning from enhancing international diplomatic ties, strengthening our country's agricultural landscape, and developing various systems and infrastructures on different sectors in the Filipino community," Regina Capital Development Corp. head of sales Luis Limlingan told the Philippine News Agency on Wednesday.
Since last year, Marcos has been visiting several countries in a bid to strengthen ties and promote the Philippines as an investment hub.
"All these are not an easy feat and what we want to see is a continuation of projects and partnerships that are integral and shapes the lives of Filipinos in the years to come," Limlingan said.
Rizal Commercial Banking Corporation (RCBC) chief economist Michael Ricafort said Marcos' move to further reopen the economy, measures to bring down inflation rate and spending more on infrastructure are some of the highlights of his first year in office.
In an interview with the PNA, Ricafort said the further reopening of the economy allowed the resumption of face-to-face schooling while increased number of foreign tourists and the further recovery of more businesses created more employment opportunities.
For infrastructure, Ricafort said the continuation of projects from the previous administration and adding more projects, with an infrastructure spending target of at least 5 to 6 percent of gross domestic product (GDP), "would also be a major contributor to economic growth."
Under the Development Budget Coordination Committee's (DBCC) medium-term fiscal program, the government intends to ramp up infrastructure spending to 5 to 6 percent of GDP.
For this year, the 5.3 percent of GDP target is about PHP1.2 trillion.
Infrastructure spending target for 2024 is PHP1.36 trillion, PHP1.45 trillion in 2025, PHP1.59 trillion in 2026, PHP1.88 trillion in 2027, and PHP2.28 trillion in 2028.
"One of the key highlights also include the legislation providing relief measures for agrarian reform beneficiaries (ARBs) to help the further development of the agricultural sector and to also help alleviate the poorest of the poor in the rural areas and eventually help reduce poverty rate," Ricafort said.
Marcos last July 7 signed Republic Act 11953, or the New Agrarian Emancipation Act, condoning all loans, including interests, penalties and surcharges incurred by ARBs from land awarded to them under Presidential Decree 27, Comprehensive Agrarian Reform Law of 1988, and Republic Act 9700 or the Act strengthening the CARP and extending the acquisition and distribution of agricultural lands issued in 2009.
Ricafort is hoping that Marcos will further prioritize other key sectors such as education, social services, and to sustain fiscal performance.
He said one important priority over the long-term that would help the Philippines become one of the biggest economies in the world by 2050 is investing further on education for the youth especially on science, technology, engineering and mathematics (STEM).
"(This would) further increase the productivity of the future workforce, lift more people from poverty, generate more incomes and have more spending power, help achieve the middle-income status country for the coming years, [and] be one of the fastest economies in in ASEAN due to the demographic dividend," he added.
Ricafort said further investing on infrastructure development would also boost the economy's capacity for more investments, and local and foreign trade.
"[There is] also the need to sustain fiscal performance and debt management by further bringing down the debt-to-GDP ratio to below the international threshold of 60 percent through tax and other fiscal reform measures to sustain more recurring sources of government revenues and more disciplined spending in order to sustain the favorable credit ratings of 1-3 notches above the minimum investment grade and make debt management sustainable over the long-term and for the coming generations," he added. (PNA)