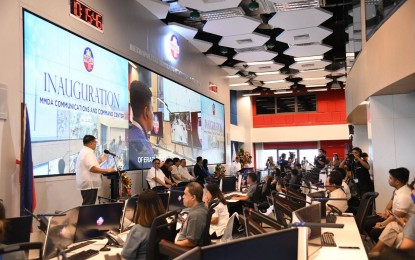 MANILA – Over 400 high-definition closed-circuit television (CCTV) cameras, an "intelligent" traffic signalization, and other systems will be monitored in the Metropolitan Manila Development Authority's (MMDA) newly-launched Communications and Command Center (CCC) in Pasig City.
During its inauguration on Wednesday, MMDA Acting Chair Don Artes said the PHP300 million new facility will serve as the "nerve center of Metro Manila's major thoroughfares."
The agency said a total of 403 CCTVs have been installed across critical and major infrastructure projects — such as pumping stations, bus bays, waterways, and in "adaptive and sensor-based" traffic lights.
These CCTVs will be monitored through an "ergonomic console system," a video wall that will be expanded to accommodate flood control monitoring and video feed for body cameras worn by MMDA traffic enforcers.
"This is a major step for MMDA to make Metro Manila a safe and smart metropolis by using smart technologies and data analytics to aid the country in its economic development and strengthened security," Artes said.
The facility also houses the Hytera Radio Smart Dispatch System, which has an in-built global positioning system (GPS) and smart map to locate traffic enforcers in real-time and communicate with other radio users in the field.
Artes said there are plans to build a 45-kilometer fiber optic cable to be able to integrate CCTVs of local government units (LGUs) in the National Capital Region (NCR) to that of MMDA as well as to procure an artificial intelligence program with vehicle classification, car counter, license plate, and facial recognition.
The MMDA has also procured handheld ticketing devices which can issue and reprint traffic citation tickets, request vehicle towing, and accept online payment in support of the agency's interconnectivity with the Land Transportation Office (LTO). (PNA)