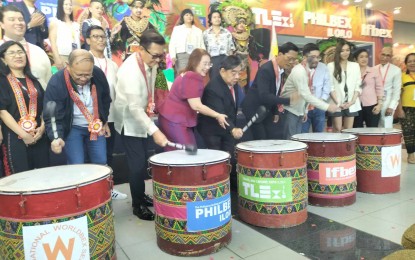 ILOILO CITY – Over 400 firms from travel and leisure, infrastructure and food and beverages on Thursday participated in a four-day tri-exposition in this city, ushering in more than 15,000 participants and boosting Iloilo City's position as a meetings, incentives, conference and exhibitions (MICE) destination.
The Philippine Building and Construction Expo (PHILBEX), Travel and Leisure Expo (TLEX), and Iloilo Foods and Beverages Expo (IFBEX), organized by the Worldbex Services International (WSI) and will run until July 16, gathered major players in the building and design, food and beverage, and travel and leisure industries from the Philippines and abroad, which are expected to bring in opportunities for enterprising Ilonggos.
"These events provide a platform for professionals in the construction, food and beverage, and travel and leisure industries to showcase their expertise, share knowledge, and explore new ideas. We can witness firsthand the latest innovations, sustainable practices and trends that will shape the future of these industries," said Iloilo City Mayor Jerry P. Treñas in his keynote message delivered by MICE Executive Director Salvador Sarabia Jr. during the opening ceremonies held at the Iloilo Convention Center in Mandurriao district on Thursday.
He said that PHILBEX captures this city's charm by celebrating the seamless blending of the old and new, IFBEX brings to the forefront the flavors and culinary expertise Ilonggos are known for, and TLEX will be an opportunity to showcase the breathtaking beauty and experiences being offered by this highly urbanized city.
In addition to product showcase and selling, the four-day event will also have seminars, business-to-business sessions and product design competitions, among others.
Meanwhile, Supervising Tourism Operations Officer Phoebe Areño, who represented Tourism Regional Director Crisanta Marlene Rodriguez, said that the region is honored to host the first regional leg of the PHILBEX that features innovations in construction and design, IFBEX that coincides with the region's growing culinary tourism, and TLEX with the ushering of the new era of travel and leisure.
"Tourists are now looking for new destinations to explore, adventure to experience, food to enjoy, far from the hustle and bustle of work without compromising one's safety and security," she said.
WSI founding chairman, Mr. Joseph Ang, in his message, said that Iloilo City's economic growth for the past 10 years is a truly notable success despite major hurdles brought about by the pandemic.
"As we step foot into the vibrant spaces of the Iloilo Convention Center, you will be transported into a world where imagination knows no limits. Every corner reveals a new discovery, a fresh perspective, and a glimpse into the future," he said.
Also joining the opening ceremony were Public Works and Highways Assistant Regional Director Al Fruto, Executive Assistant to Iloilo City Vice Mayor Nene Dela Llana, and Iloilo Provincial Engineer representing Governor Arthur R. Defensor Jr. Engr. Romeo C. Andig. (PNA)