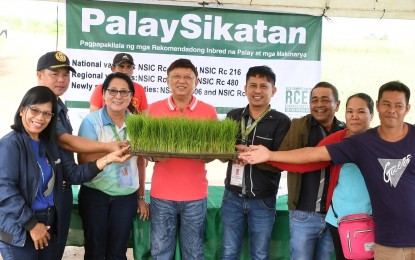 BACOLOD CITY – The cities of Sagay and Sipalay in Negros Occidental province have been chosen as pilot sites for the implementation of the PalaySikatan technology demonstration project of the Department of Agriculture-Philippine Rice Research Institute (DA-PhilRice).
Implemented under the Rice Competitiveness Enhancement Fund (RCEF) Seed Program, it features the utilization of modern inbred rice varieties along with integrated crop management practices and technologies to help increase farmers' yield and income and reduce production costs.
In the northern city of Sagay, there are two areas, located in Barangays Rizal and Lopez Jaena, where six rice varieties will be planted on a three-hectare farm managed by six farmer cooperators or farmer associations.
Each variety will be planted on half a hectare, and during harvest season, the stakeholders will determine which of the rice varieties is suitable for Sagay.
In a statement issued Friday, Mayor Narciso Javelosa Jr. thanked the DA-PhilRice for choosing Sagay as one of the pilot areas of PalaySikatan in the province.
"Dedicate yourselves to studying these new varieties to increase rice production," he told rice farmers, who attended the farm mechanization demonstration on July 11.
City Agriculturist Julie Delima said adapting farm mechanization could address the effects of climate change as the farmers would have an easier and faster way to plant and harvest rice using technology.
In the south, rice farmers in Sipalay attended the demonstration on the use of a granular applicator, a machine that eases the work of sowing rice seeds, as well as the technique to show soil nutrient deficiencies.
They were also given an orientation on the benefits of choosing the right seed varieties as well as techniques to make their work more efficient and lead to better crop yield.
According to the DA-PhilRice, being promoted under the PalaySikatan are nationally recommended rice varieties such as NSIC Rc 222, Rc 216, and Rc 402 for the 2021 wet season to the 2023 dry season.
Also, location-specific varieties are being cultivated in the technology demonstration, each varying depending on the region and province where the site has been established. (PNA)