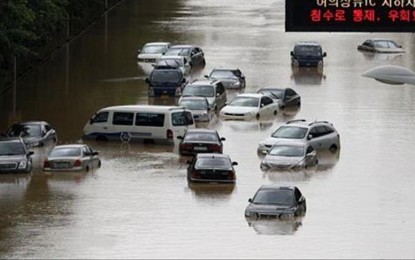 ANKARA — The death toll from flooding and landslides caused by heavy rains in South Korea has shot up to 32 as rescuers recovered six more bodies from a bus trapped in a flooded underground tunnel in the central town of Osong, Seoul-based Yonhap news reported on Sunday, citing government and rescue authorities.
Over 10 people are missing while thousands evacuated their homes due to rain damage.
The death toll from the underpass flooding stood at seven, as of Sunday morning, and is expected to rise further as several people are believed to be trapped inside the tunnel.
Most fatalities were reported in the southeastern province of North Gyeongsang, where 17 people died due to landslides and housing collapses, and nine others are missing.
One more person was reported missing in Busan, the office said.
Thirteen people have also been injured nationwide as a result of the recent downpours.
Over 7,000 people from 13 cities and provinces have so far evacuated their homes.
Heavy rains have also left 211 roads closed.
All train operations have been suspended, although KTX bullet trains on some sections resumed operations.
The central Chungcheong provinces and the southern Jeolla and Gyeongsang provinces may experience up to 300 mm of additional rain through Tuesday, according to the state-run weather agency.
Landslide warnings across the nation have also been upgraded to the highest level of "grave."
Prime Minister Han Duck-soo has vowed "prompt" government efforts to rescue the missing people.
In neighboring Japan, a man died and more than 2,000 people were evacuated as heavy rain pounded the northeastern Akita Prefecture over the weekend, local authorities said Sunday.
The man was found in a flooded car on farmland in Gojome at around 7:10 a.m. and was later confirmed dead, Tokyo -based Kyodo News reported.
Around 2,100 people were staying at 77 evacuation centers in the city of Akita as of Sunday morning. (Anadolu)