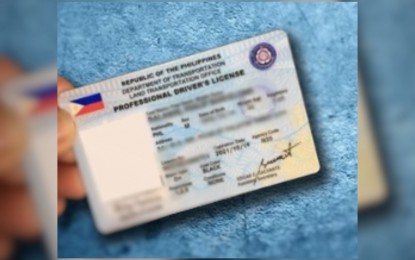 MANILA – At least 5,000 driver's license cards will be issued before President Ferdinand R. Marcos Jr. delivers his second State of the Nation Address next week, an official of the Land Transportation Office (LTO) said Monday.
LTO officer-in-charge Assistant Secretary Hector Villacorta said Banner Plasticard Inc., the winning bidder, is expected to produce 15,000 to 30,000 cards daily within 10 days. It committed to deliver 1 million cards in the next two months.
"Just maybe 5,000 copies. The paper will surely be out of date because the production of license cards will start with 15,000 to 30,000 plastic cards a day within 10 days and the promise is within 60 days they can make 1 million plastic cards so the issue of lack of supply for plastic cards will be history," Villacorta said in a media briefing.
The first batch of license cards will be distributed to overseas Filipino workers and new driver's license applicants.
"Actually ang nauuna (the initial ones would be for) is OFWs and student driver's permit that mature into non-pro or professional license," he said. "I've seen the [Banner Plasticard Inc.] factory here in Pasig and they showed me that they can do 15,000 to 30,000 copies everyday," Villacorta said.
Driver's license holders can now access the electronic copies of their licenses through the LTMS portal.
"Napa-aga 'yung launch because the IRR [implementing rules and regulations] takes 15 days to take effect. But we just want to assure the public that things are getting back to normal and we have an additional form that is available, the virtual ID," he said.
The OFWs may present the virtual ID as proof of identification, he added.
"Pwede rin ipakita 'yung (They can show the) e-license so we would have a memo to all enforcers that that should be accepted," he said.
Early in June, the LTO reported a backlog of about 690,000 for the issuance of driver's licenses, with many LTO offices temporarily issuing paper licenses in place of plastic driver's licenses. (PNA)