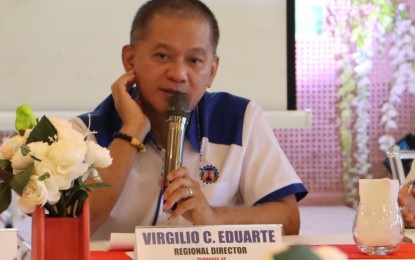 LEGAZPI CITY – The Department of Public Works and Highways in Bicol (DPWH-5) has completed more than 2,000 infrastructure projects during President Ferdinand R. Marcos Jr.'s first year in service across the region.
In an interview on Wednesday, Lucy Castañeda, DPWH-5 spokesperson, said a total of 2,077 projects in their 17 implementing offices were constructed through the "Build Better More" program of the Marcos administration.
"The finished projects are now providing necessary facilities that ensure safe and convenience to Bicolanos. The completed projects were from July 1, 2022 to June 30, 2023. There were flood mitigation structures, farm-to-market roads, access roads, tourism destinations, school buildings, local bridges, multi-purpose buildings and structures," Castañeda said.
She said DPWH-Bicol will continue to do its best to deliver more significant projects for the region.
In Masbate, Baby Joy Mesa, a senior high school student in Aroroy town, said because of the construction of a concrete road in their area that was completed on Sept. 5, 2022, students from far barangays now have easier access to schools.
"With this project, more vehicles can now travel in our area. Before it was all muddy when it rained but now it's already cemented so we feel safe," Mesa said in a statement.
A flood control project in Buenavista River, Barangay Magsaysay in Uson, Masbate gives Ester M. Oliva a feeling of relief since they will no longer experience floods.
"This project is of great help because before, this area is prone to flooding. When the project was completed, we no longer experienced flooding, even if it was raining," she said.
In Sorsogon, William Gando, Sorsogon City Schools Division Superintendent, thanked the Marcos administration for constructing the Sorsogon Cultural Center for the Arts as well as a multipurpose building.
"This edifice will help us promote cultural awareness among our learners, from kindergarten to senior high school. It is the first of a kind outside of the Cultural Center of the Philippines in Metro Manila. We are already planning on showcasing multiple cultural presentations in the coming months starring different community-based groups. We hope to rediscover the pride in us Sorsogonanons, through stage production and performances," Gando said.
A road that gives access to different tourism sites in Sta. Magdalena, Sorsogon has increased the number of tourist arrivals.
Reno Lozano, the town's tourism coordinator, said more people are now visiting scenic spots and heading to different beaches and resorts.
"The number of travelers and tourists has doubled. We are very grateful to the national government and the DPWH Sorsogon 2nd District for effecting this road project," Lozano said.
In Albay, Alan Secopito, chairperson of Barangay San Agustin in Libon town, said the construction of a flood control project has taken away the residents' fears during heavy rains.
"The residents have peace of mind especially when there is a calamity since our barangay is constantly flooded. We now have protection, especially during periods when water levels are high. We wish that the construction of flood control in the remaining parts of our barangay will continue to avoid flooding," he said.
Meanwhile, in Basud, Camarines Norte, Erwin Ponayo, Poblacion barangay captain, thanked DPWH for the flood control project that has prevented landslides and floodings in their area.
A road widening project in Camarines Sur, on the other hand, provides help to commuters such as Dorothy Punongbayan. "The road widening in Pamplona was really a big help for us regular commuters going to and from our works in the city and even taking our children to school," she said.
In a statement, DPWH-5 (Bicol) Regional Director Virgilio C. Eduarte said the different projects align with the department's mandate to provide quality infrastructure facilities and services responsive to the needs of the people. (PNA)