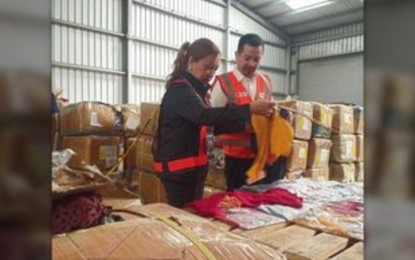 SUBIC BAY FREEPORT – The Subic Bay Metropolitan Authority (SBMA) and Bureau of Customs-Port of Subic (POS) have vowed to intensify their anti-smuggling efforts following the recent apprehension of counterfeit apparels worth PHP240 million.
During the inspection of the apprehended apparels on Tuesday here, SBMA Chairman and Administrator Jonathan D. Tan and BOC-POS District Collector Carmelita Talusan cited the importance of strong collaboration between them in a bid to address smuggling problem.
"We do everything to curtail smuggling in the Port of Subic, which is an impossible task. Through the strong collaboration between SBMA and BOC, at least there is a big reduction in smuggling try, and we prove to the people that these agencies are serious in dealing against smugglers," Tan said.
Talusan, for her part, said, "we are on the same track in promoting ease of doing business in Subic, and in protecting the intellectual property rights of the legitimate owners."
Inside the warehouse, the two officials showed to the media the 1,269 boxes containing assorted t-shirts of counterfeit brands such as Balenciaga, Louis Vuitton, Adidas, Calvin Klein, Under Armour, Lacoste, GAP, Nike, Zara, Reebok, in violation of Intellectual Property Rights (IPR) regulations.
Based on records, the consignee was identified as Bonne Volonte Consumer Goods, which imported the items from Dhaka, Bangladesh.
The contraband arrived in Subic on June 14 in two 40-footer container vans.
Case of violation of Section 155 of Republic Act 8293 (Intellectual Property Code of the Philippines) will be filed against the consignee.
Meanwhile, Tan recommended the strict checking of other imported products entering the Port of Subic as part of the anti-smuggling efforts.
"I hope we also implement strict monitoring of imported oil, frozen meat and agri-products entering our port," the SBMA official said as he expressed belief that there is still something big to find in those importation activities.
Tan also recommended the setting up of x-ray machines at the gates of the Freeport and make random check-ups of all container vans going out of the economic zone.
Talusan, on the other hand, reiterated the BOC-POS' strong commitment to ensuring transparency, accountability, and compliance in all customs operations as it strives to create an environment conducive to legitimate trade and economic growth. (PNA)