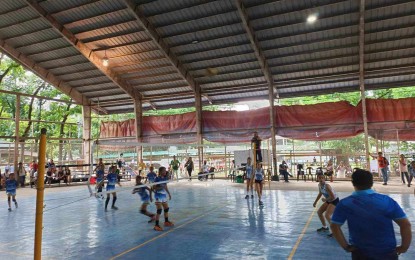 ILOILO CITY – The Department of Education (DepEd) in Western Visayas is eyeing new records in the 2023 Palarong Pambansa to surpass the seven records set in the sporting event held before the pandemic in 2019.
The region recorded five new records in athletics composed of long jump and shot put for secondary girls, 3,000-meter steeple chase and 1,500-meter run for secondary boys, and javelin throw for elementary girls.
Further, two records were set in swimming consisting of the 100 and the 200 long course (LC) meters freestyle.
DepEd information officer Hernani Escullar Jr., in an interview on Tuesday, said that the region will have a strong contingent consisting of 539 athletes; 131 coaches, assistant coaches and chaperones; and a 143-member technical working group.
"Our athletes are ready as per our last meeting with our sports officer. We target to grab the championship crown in the Palarong Pambansa this year," Escullar said.
It means, he said, that they will be targeting more gold medals because the winner in the national sports event will be ranked based on the number of gold medals.
There will be a total of 20 regular sports, four para-games, and two demonstration sports that will be seeing action during the Palaro set on July 29 to Aug. 5 in Marikina City.
Western Visayas ranked third in the previous Palaro with 49 gold, 40 silver, and 73 bronze medals.
Escullar said they are looking at the National Capital Region (NCR) and the Calabarzon as among their strong competitors.
The contingent will leave Iloilo on July 23 and expected to arrive in Manila the next day.
"Our billeting area is ready. Since it is rainy season and our billeting area is flood-prone, then all quarters will be on the second floor and up to make sure that our delegation is safe," he added.
They will be billeted at the Kalumpang Elementary School, Kalumpang National High School and Marikina Science High School. (PNA)