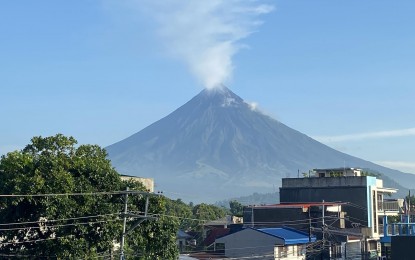 MANILA – The amount of assistance extended to communities affected by the ongoing unrest of Mayon Volcano has now climbed to PHP225.7 million, the National Disaster Risk Reduction and Management Council (NDRRMC) said Wednesday.
In its latest bulletin, the agency said this is significantly higher than the PHP150 million worth of aid as of July 11.
The NDRRMC said the aid consists of distilled six-liter water bottles, empty drums, family food packs, family kits, financial and fuel assistance, hog grower feeds, hygiene kits, knapsack sprayers, laminated sacks, "malong," nylon ropes, rice, sleeping kits, siphoning services, ruminant feeds and tarpaulins.
As of this posting, affected families are placed at 9,867 families which is equivalent to 38,377 persons residing in 26 barangays in the Bicol Region.
Of this figure, 5,392 families or 18,826 individuals are being aided in 27 evacuation centers while 409 families which is equivalent to 1,431 persons are being helped outside.
The Office of Civil Defense earlier said the affected families are a combination of those displaced and those not really needing removal from their residence.
It cited as an example families whose livelihoods were affected but not needing evacuation. (PNA)