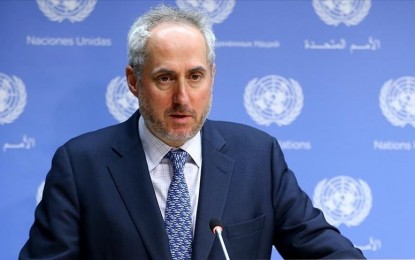 TORONTO – Disrespect for holy books and places of worship is "unacceptable," UN spokesperson Stephane Dujarric said Thursday, in response to the desecration of the Quran in Sweden.
"What we need is mutual respect. I think we've been very clear that the desecration of holy books, the desecration of places of worship is unacceptable," he said at a press briefing, noting that such actions have historically been used as a provocation.
He said people should respect one another's religions, refrain from taking matters into their own hands, and avoid committing any acts of violence.
Early Thursday morning, a crowd of Iraqis stormed Sweden's Embassy in Baghdad and set it ablaze in protest of the June 28 burning of a copy of the Quran, Islam's holy book, last month by Salwan Momika, an Iraq-born man who now lives in Sweden.
The Foreign Ministry of Sweden condemned the attack on its embassy and called it a "serious violation" of the Vienna Convention.
Many states, including the US, Russia, Türkiye, Iraq, Pakistan, Indonesia, Afghanistan, and other Islamic countries, decried the attack.
Sweden also launched an investigation into the incident.
Following the storming of Stockholm's diplomatic mission, Momika again desecrated a copy of the Quran, stepping on it and the Iraqi flag in front of Iraq's embassy in Sweden.
Thursday's incident happened after Iraq warned Sweden it could break diplomatic ties should a similar incident happen again. Baghdad went through with the action and declared Sweden's envoy persona non grata after the holy book was desecrated for a second time in a month. (Anadolu)