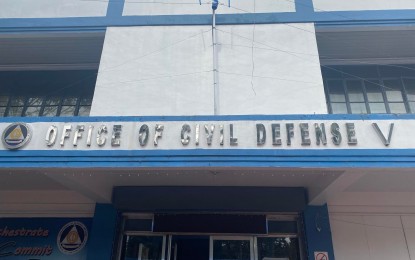 LEGAZPI CITY – Bicol's Regional Disaster Risk Reduction and Management Council (RDRRMC) has placed all disaster response offices on red alert to prepare for the possible onslaught of Tropical Storm Egay.
As of the 11 a.m. bulletin Saturday, the center of Egay was estimated at 750 km. east of Virac, Catanduanes.
No Tropical Cyclone Wind Signal has been raised as of posting time.
In an interview, Gremil Alexis Naz, Office of Civil Defense (OCD) 5 (Bicol), said response clusters with different national government agencies have been activated.
"Different offices are now expected to report the status and updates every 7 a.m. and 4 p.m. of their respective clusters' concerns. With the red alert status, all response assets must be ready for deployment and we are closely monitoring the weather disturbance that may affect the different local government units' (LGUs) area of responsibilities," Naz said.
Clusters are for health, Department of Health 5; food and non-food items, protection and camp coordination and camp management, Department of Social Welfare and Development 5; emergency telecommunications, Department of Information and Communications Technology - South Luzon; law and order, Police Regional Office 5; logistics, OCD; search, rescue and retrieval, Joint Task Force Bicolandia; debris cleaning, Department of Public Works and Highways 5; and management of the dead and missing, Department of the Interior and Local Government (DILG) 5.
Naz said they are also monitoring possible lahar flow around Mayon Volcano.
"Evaluate the need for evacuation for high-risk areas and barangays. Evacuation for high-risk areas and barangays shall be led by the local DRRMCs, in coordination with the Philippine Institute of Volcanology and Seismology (Phivolcs), provincial DRRMC, and DILG as needed," he said.
Due to possible interruption of electricity, mobile, and Internet connections, provincial and local DRRMCs have been advised to explore all means of communicating advisories to the community.
In its bulletin, Phivolcs warns of potential lahars and sediment-laden streamflows on all river channels draining the slopes of Mayon Volcano, particularly the Mi-isi, Binaan, Anoling, Quirangay, Maninila, Masarawag, Muladbucad, Nasisi, Mabinit, Matan-ag, and Basud Channels, that may be generated by heavy rainfall brought about by Egay.
Communities and LGUs beside the drainages are advised to be additionally vigilant and to move residents to high ground should heavy rains occur.
"Civil aviation authorities must also advise pilots to avoid flying close to the volcano's summit as ash from any sudden eruption can be hazardous to aircraft. Based on the current prevailing wind pattern, ash fall events may most likely occur on the south side of the volcano," the bulletin read.
Alert Level 3 is maintained over Mayon Volcano.
The current forecast track indicates that Egay will remain offshore over the Philippine Sea. However, a landfall scenario over the northern portion of Northern Luzon has not been ruled out as of posting time.
Egay is forecast to intensify into a severe tropical storm in the next 24 hours and peak at super typhoon category on Tuesday or Wednesday while over the Philippine Sea east of extreme Northern Luzon. (PNA)