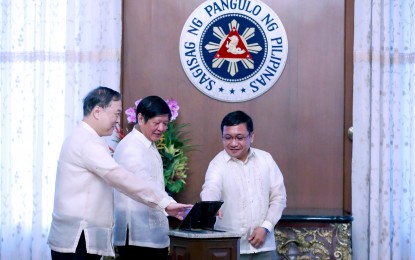 MANILA – The Marcos administration is looking to "fully embrace" digitalization and online payment systems as tools in the government's arsenal to improve public services, ease of doing business, as well as fight graft and corruption.
During his second State of the Nation Address (SONA) on Monday, President Ferdinand R. Marcos Jr. said digitalization helps in frontline services, back-end functions, as well as supports the government in "data-driven and science-based planning and decision-making."
"Digitalization is the call of today; not of the future --but of the present. It is here. It is needed, and it is needed today," Marcos said.
He said government streamlining efforts through digitalization has so far "significantly boosted efficiency" such as in government payments, company and business registration, issuance of permits and licenses, loan applications, and revenue collections.
"All our digitalization efforts will be linked to our payment systems, whose digital transformation has been accelerating at a remarkable rate," he added.
In 2022 alone, Marcos said digital payments accounted for 42 percent of total retail payments for businesses, individuals, and by the government.
"Its high trajectory is now well-positioned to achieve Bangko Sentral's target of 50 percent of total retail payments by this year," he said.
Digital payments
Marcos cited the rise in the share of retail digital payments to 42 percent of the total in 2022, almost near the 50 percent share target of the Bangko Sentral ng ng Pilipinas (BSP) by this year.
Based on the BSP's 2022 Status of Digital Payments report released last June, digital payments were only 1 percent of the total in 2013.
It rose to 10 percent in 2018, 14 percent in 2019, 20.1 percent in 2020, and 30.3 percent in 2021.
Retail payment transactions grew by 611.7 million in terms of volume in 2022 relative to the previous year, BSP data show.
In 2022 alone, payments made by persons accounted for 68.6 percent of the total, and were followed by the payments made by businesses, 30.3 percent; and payments made by the government, 1.1 percent.
Of the total, 90.6 percent of digital payments volume were accounted for by person-to-business (P2B) payments, 73.7 percent; person-to-person (P2P) and business-to-person (B2P), 14.7 percent; and salaries and wage payments, 2.2 percent.
Authorities have attributed the big rise in digital payments to the impact of the pandemic, which prevented most people from going out, thus the need to do online transactions for most of their purchases.
Marcos said the country's financial system, which he describes as "the nerve center of our economy", "remains strong and stable."
He said banks, the monetary policy's transmission arms, "have strong capital and liquidity positions."
With the easing of restrictions put in place during the pandemic, Marcos said, "transactions once again flourished—alongside the booming e-commerce that was undeterred by the pandemic."
"In 2022, the digital economy contributed PHP2 trillion, equivalent to 9.4 percent of our GDP (gross domestic product). The economy is revived and rejuvenated, backstopped by a favorable enabling environment and the strong rule of law," he said.
eGov PH app
To eliminate redundancy and further ensure ease of use, Marcos showcased the eGov PH mobile app that aims to integrate all key government services for the convenience of its users.
"The Department of Information and Communications Technology (DICT) has been directed to consolidate all these digitalized government services into the eGov PH app to establish the National Government Portal and the Philippine Business Databank, and to improve the internet speed in our country," he said.
On the other hand, Marcos said the National ID System will serve as the core of a "digitally transformed network of government services."
To date, he said the National ID System reported around 87 percent total registration.
"We are now closer to establishing a complete, accurate, and reliable digital database of our entire population. This has already been integrated into the eGov PH app, and can be accessed by our citizens," he added.
Improved internet speed
To support the government's push for digitalization, Marcos said internet speed in the country has also improved.
"As of June this year, our fixed broadband speed ranks 47th among 180 countries. This ranking is 11 places higher than it was in 2022. Our mobile internet speed is now ranked at 83 out of 142 countries, which is 8 places higher than it was last year," he said.
He took note of the launch of Starlink earlier this year which aims to provide high-speed satellite broadband connectivity --particularly useful in remote areas that cannot be reached by conventional wired broadband service providers.
In addition, Marcos said the government's National Fiber Backbone and Broadband ng Masa projects will also deliver high-connectivity and high-speed internet to geographically isolated and disadvantaged areas.
Last year, the E-Governance Act or House Bill No. 7327, a consolidation of 21 related measures, was highlighted by Marcos as one of his priority measures in his first SONA.
The bill was approved by the House of Representatives on March 6, with Marcos' marching order to "accelerate the buildup of digital infrastructure in the country." (PNA)