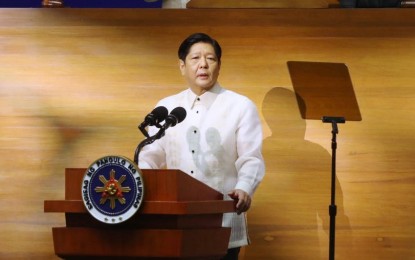 MANILA – Lawmakers and Cabinet secretaries have lauded the second State of the Nation Address (SONA) of President Ferdinand R. Marcos Jr. as it showed that the country's meaningful economic transformation is already underway.
Quezon Rep. Reynante Arrogancia said the promising numbers presented by Marcos during his second SONA are "welcome data" that can bolster more investments in the country.
"I am heartened by the comprehensive SONA of President Ferdinand R. Marcos, Jr. As a person with a background in business, I am keenly aware of the economic transformation underway in our country," Arrogancia said.
True to his vow to improve the Philippine economy, Marcos cited the country's growth momentum peaked at 7.6 percent in 2022, the "highest growth rate in 46 years."
"For the first quarter of the year, our growth registered at 6.4 percent. It remains within our target of 6 to 7 percent for 2023. We are still considered to be among the fastest-growing economies in the Asian region and the world. It is a testament to our strong macroeconomic fundamentals," Marcos said in his speech.
As part of the economic transformation bid, Marcos said his administration is committed to stabilizing the prices of all critical commodities, noting that inflation rate is "moving in the right direction."
"From 8.7 percent in January, our inflation has continued to ease up in all regions, settling at 5.4 percent this June. What this means is that in spite of all the difficulties, we are transforming the economy," he said.
Arrogancia said he was keenly interested in Marcos' emphasis on agriculture, noting that the approach through science and rational modes to address the needs of this sector is certainly on the right path.
"I can attest that indeed agricultural implements and assistance to our farmers/fisherfolk is being conducted even in our district," Arrogancia said.
Arrogancia said he supports Marcos' plan to implement more social assistance programs, which would require additional funding. He said he looks forward to the continuing implementation of effective programs and the policy changes that will "continue to effect these positive transformations".
Sen. Sherwin Gatchalian was satisfied with Marcos' "very detailed" explanation to expand the agriculture sector, a necessity he said would not only boost agricultural production but also address inflation.
"Matatawag ko itong SONA na ito na renaissance ng agriculture, makikita natin sa unang bahagi ng talumpati ng ating pangulo na malaki ang oras na ginugol niya sa pag-laban ng inflation at kung paano buhayin ang sektor ng agrikultura para malabanan ang inflation (I can call this SONA a renaissance of agriculture, we saw how he spent time to discuss efforts to fight inflation and how to revive agriculture to address inflation," he said.
Marcos reported that inflation is expected to further ease by the end of the year and settle at 2.9 percent by 2024.

'Doable'
In an ambush interview after the speech, National Economic and Development Authority (NEDA) Secretary Arsenio Balisacan said the objectives Marcos has set are all "doable".
"Most of what the president has mentioned are actually in the Philippine Development Plan but I think the way he put it up made it more clear and relatable to the public," he said.
"The goals, the policy directions, the strategies that are needed to achieve the objectives, I think those were really set out and the visions are there and I think it's great. It's one of the best SONAs I've heard," he said.
On the tourism side, Tourism Secretary Christina Frasco the breaching of the 3 million mark in arrival "is just a preview of the bright prospects we can expect from the tourism industry under the Marcos administration."
She said the DOT is also elated to know Marcos' continuing commitment to connect "all prospective sites of economic development" noting that this will spur tourism development countrywide, and consequently, create more livelihood opportunities for Filipinos through tourism.
"I express my profound gratitude to President Marcos for saying to the world what all Filipinos and all who have been here know to be true in our hearts: we all Love The Philippines. And it is this deep love of country that will propel the tourism industry forward towards becoming a tourism powerhouse in Asia," she said.
Surigao del Norte Rep. Robert Ace Barbers, meanwhile, gave the 2nd SONA "a passing grade of 10 out of 10".
Barbers said he appreciates how the administration recognized the contribution of overseas Filipino workers to the economy.
"What I like most ay 'yong mga binanggit niya na mga sektor kagaya ng (are his mentions of the different sectors like) migrant workers and peace and order, which includes social reintegration, and third is the overall peace program," he said.
Sen. JV Ejercito, on the other hand, was glad to hear that infrastructure development was a priority of the administration.
"Sa palagay ko iyan ang paraan para makahabol tayo sa ating mga karatig bansa, 'yong ASEAN neighbors natin like Indonesia, Malaysia, Thailand, and even Vietnam that invest heavily in infrastructure (That is one way to catch up without neighbors, especially our ASEAN neighbors like Indonesia, Malaysia, Thailand and even Vietnam that invest heavily in infrastructure)," he said.
"Marami tayong hahabulin pero natutuwa ako na nabanggit ito ng pangulo na ito ay magiging prayoridad (We have a lot of catching up to do but I'm elated to hear that it will be a priority)," he added.

Unwavering commitment to the welfare of Filipinos
Ang Probinsyano Party-list Rep. Alfred delos Santos also commended the President for his "unwavering commitment" to the welfare of the Filipinos.
Delos Santos particularly noted Marcos' emphasis on establishing more Kadiwa stores, as the lawmaker committed to support this initiative in the coming budget hearings.
He expressed hope that the agency budgets would match the prioritization of the President specifically stated in his second SONA.
"Following through on the transfer of 70 thousand land titles to agrarian reform beneficiaries, there should be support to the farmer families for cultivation, harvest machinery, and postharvest facilities," Delos Santos said.
'Priorities into actionable policies'
Bagong Henerasyon Party-list Rep. Bernadette Herrera said she is looking forward to the collaboration between Congress and the administration to translate the priorities identified by the President in his SONA into actionable policies that will "lead to the betterment of our nation and the well-being of our fellow Filipinos".
Herrera said one of the highlights of the President's SONA is the prioritization of the creation of the Department of Water Resource Management.
"The prioritization of the Department of Water Resource Management bill is a high agenda item in Congress. I have my own version of the bill in the current Congress - House Bill 1014. There are at least 35 such bills in the House of Representatives. Knowing it is a presidential priority, I will earnestly push to create the Department of Water Resource Management," Herrera said.
Herrera also highlighted the President putting importance on strengthening technical and vocational (techvoc) education, noting that "skills are the new currency".
"I am glad that the government sees the significance of this aspect in driving our country's progress," Herrera said.
On the matter of medical assistance, she expressed delight over the government's commitment to enhance medical support, as she pushed for the passage of a bill that would fully include all private hospitals to provide comprehensive healthcare for all.
"I also welcome the proposal to establish Konsulta centers, and I firmly believe that combining this initiative with online Konsulta services will greatly improve access to healthcare, especially in remote areas where physical access to medical facilities is limited," he said.
Herrera said she is committed to supporting measures that promote the integration of digital technologies in various sectors to streamline processes and enhance overall efficiency.
"I am also glad that the President mentioned a new auditing code because it is badly needed now especially since we don't have an existing an ICT procurement policy," she said.

Direct to the point
Speaker Martin Romualdez said the President's message in his second SONA about the country's improving economy was clear and direct to the point.
"Malinaw ang mga sinabi ng ating Pangulo sa kanyang SONA. Sa kabila ng kaguluhan sa ibang parte ng mundo, maganda ang lagay ng ating ekonomiya at nakikinabang dito ang nakakaraming bilang ng mga Pilipino (What our President said in his SONA were clear. Despite the turmoil in other parts of the world, we have a good economy and a great number of Filipinos are benefitting from it)," Romualdez said.
He pointed out that even other countries recognize the Philippines' potential of becoming the best performing economy in the Southeast Asian region.
Romualdez said he is expecting Congress to have an important role in further improving the economy in the coming years.
He vowed that the House of Representatives will pass measures that will enhance jobs and livelihood opportunities to Filipinos, as well as remove barriers to the entry of foreign investment in the country.
He likewise assured that the House do its utmost in the President's mission to bring down the prices of basic commodities.
"Malinaw din naming narinig ang lahat ng mga batas na hinihiling ng Pangulo para maipasa ng Kongreso. Isasama namin lahat ito sa priority measures na ipapasa ng House of Representatives. Kung kailangan na mag-doble kayod kami dito, gagawin namin, makatulong lamang para mapaginhawa ang buhay ng mga kapwa natin Pilipino (We also heard clearly all the measures that the President asked Congress to pass. We will add them to the priority measures of the House. If we need to work double time to get it done, we will do it just to help in improving the lives of our fellow Filipinos," Romualdez said.
In a separate statement, Deputy Speaker and Batangas 6th District Rep. Ralph G. Recto said Marcos' speech was partly a lecture on the Medium-Term Development Plan.
"For those expecting SONA as theatre, what he delivered instead was a teach-in. He traded oratorical flair for as many facts as he can squeeze in such a short time," he said. "He was not fishing for applauses, choosing fewer sound bites so he could mention more sound programs."
He said the speech was designed not to get people excited, "but to get us thinking for a long time on the hard work ahead."
"Overall, it was a good accounting of the state of the nation," Recto said.
Deputy Majority Leader and Iloilo City Rep. Julienne L. Baronda also commended Marcos for his straightforward and candid portrayal of the state of the nation.
"In his second State of the Nation Address, the President has accurately and vividly painted the realities and challenges faced by the Filipino people, presented boldly the goals and targets of his administration, and the decisive steps thus far taken by the government towards achieving our dreams and aspirations for a Bagong Pilipinas," she said in another statement.
She also lauded Marcos and his administration for keeping the economy vibrant and vigorously afloat, as well as for responding to the needs and providing more for our people in our collective journey towards a better way of life despite the myriad challenges confronting our country and the world at large.
"We look forward to more solid gains across all areas of endeavor as the government's development momentum gains more traction in the immediate future. We also vow to fully support the President's legislative agenda especially those that seek to empower the weak, the helpless, the destitute and the displaced sectors of our society," she said.
For her part, ACT-CIS Partylist Rep. Jocelyn P. Tulfo expressed her full support for Marcos' call for the whole country to set aside their differences and politicking for unity.
She believes that the Executive and the Legislative branches of government have made significant progress in the past year to unite the country, as shown in the priority measures that were approved in the House of Representatives that aligned with the goals of the administration.
"It's a work in progress but at least we started something here to unite our people and the whole country. We have President Marcos to thank for his initiatives and his leadership," Tulfo said. "Andami pa nating dapat marinating at maipapakita sa buong mundo (We still have a lot to reach and show to the world) and uniting our people is the first step to bring out the best in every Filipino to the world."
Terse but meaningful
Cavite 4th District Rep. Elpidio Barzaga Jr. vowed to buckle down along with other House members in response to President Marcos' call for Congress' support.
He said the Chief Executive gave a clear, factual and comprehensive report to the Filipino people, detailing his administration's achievements after a year in office, giving people hope and optimism.
"The President went straight to the point, keeping his performance report simple and bereft of gimmicks -- no pomp and circumstance. It was terse but meaningful," he said.
Barzaga said the speech showed that the President is determined in getting things done and proving that the administration's pro-people agenda is not mere lip-service.
"I could sense his confidence when he said that the state of the nation is sound and improving and as the song goes, 'we've only just begun'," he added.
The President, he said, assured the people that he is striving to put flesh on his campaign promises of uplifting lives and uniting the country, which he said was made possible by his call for national unity.
"I also agree with the President that we have already made significant progress as we get back on our feet post-pandemic. He trumpeted that the economy grew by 7.6 percent, the highest in 46 years and 6.4 percent in the first quarter of 2023 which is well within the government's target," Barzaga said. (with reports from Jose Cielito Reganit/Zaldy De Layola/PNA)