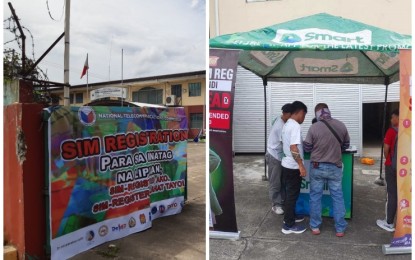 CEBU CITY – As SIM card registration ended on Tuesday, telecommunication networks thanked national and local government agencies in Central Visayas for their active involvement in spreading awareness about the law requiring owners to register.
Marylou Gocotano, head of the PLDT and Smart Corporate Communications-Visayas, said that the telecom companies, the Department of Information and Communications Technology (DICT), and the National Telecommunications Commission (NTC) have gone beyond their efforts to disseminate the need to register prepaid SIM cards Republic Act No. 11934 or SIM Card Registration Act.
While the government's task was simply to disseminate information about the registration process, Gocotano said telcos, in partnership with government agencies, went the extra mile by implementing various measures such as door-to-door registration, setting up registration booths, and taking any necessary actions to remind everyone to register.
She also cited the help of the media in supporting the government and the telcos in disseminating information about SIM registration.
"I really thank the people on the ground, our partners, LGUs, NTC, DICT, cooperatives, and schools that welcomed us in our request to conduct SIM registration. We were not required to do it, we are not mandated to do it, but we wholeheartedly did it," Gocotano said during the Open Line forum on Tuesday.
Gocotano said around 60 percent of their subscribers were able to register their SIM cards during the first deadline on April 26, 2023.
She noted an increase of 6 million, making it 75 percent of the SIM cards are duly registered.
Globe Telecom's vice president for external affairs Patrick Gloria said that 55 million of their users have successfully registered their SIM cards, representing 92 percent of the network's active consumer base.
Gloria also clarified that registering a GCash account is different from registering their SIM cards as required by law, explaining that SIM card is needed to generate one-time passcode for certain transactions using the e-wallet applications.
He also said that those who are into mobile banking and other apps that need a one-time password (OTP) and yet failed to register their SIM card may find trouble after the deadline of registration as they would have to go through the long process of changing their mobile numbers used on those apps.
"If the SIM doesn't work, anything that has to do with the SIM won't work also," Gloria warned.
Engr. Felipe Gumalo, officer- in -charge for enforcement and operations division of NTC-Central Visayas, said the agency has been conducting last-ditch effort to help prepaid subscribers register their SIM cards through a booth in front of their office in Subangdaku, Mandaue City.
"After the deadline, unregistered SIM cards will automatically be deactivated.
Under the law, they have five days to reactivate, otherwise, the number of that SIM card will be deactivated forever," Gumalo told in an interview. (PNA)