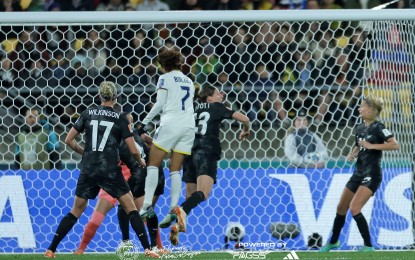 MANILA – Philippine Olympic Committee (POC) president Abraham Tolentino heaped praises on the national team's stunning victory over New Zealand at the FIFA Women's World Cup on Tuesday, saying God's hand continues to touch Filipino athletes as they battle odds on the global arena.
On the same day halfway across the globe, the national women's softball team Blu Girls advanced to the playoffs of the Women's Softball World Cup following back-to-back victories, also over New Zealand, 5-3, and host Italy, 6-5.
Fate, he said, has again presented a valuable gift to Philippine sports on almost the same day and exactly the same month two years ago when weightlifter Hidilyn Diaz-Naranjo won the country's first Olympic gold medal in Tokyo.
"It's God's gift," said Tolentino of that historic 1-0 victory by the Filipinas against World Cup co-host New Zealand at jampacked Sky Stadium in Wellington. "The Filipinas were the underdogs."
"Chance favors the prepared mind and in the Filipinas' case, the prepared team," added Tolentino, as he cited the Philippine Football Federation's relentless campaign to form the best team ever for the most prestigious tournament available.
July, Tolentino said, has become a winning month for Philippine sports.
"Two years ago, on July 26, 2021, at the massive Tokyo International Forum, Hidilyn Diaz won the Philippines' first gold Olympic medal," said Tolentino.
"And on Tuesday, July 25, it was the Filipinas' turn to make sports history -- they didn't only qualify for the World Cup for the first time, they made an impact," he said, adding the Blu Girls deserve the same level of admiration by also conquering odds against the world's top softball nations.
The 23rd Olympiad opens exactly a year from now in Paris on July 26, 2024 -- the 100th year of Philippine participation in the Olympic movement, having debuted in 1924 also in the French capital.
"God willing, and with our athletes training harder and with more dedication and focus, we can do better in Paris," Tolentino said.
Significant milestone
Meanwhile, Pwersa ng Bayaning Atleta Party-list Rep. Margarita Nograles on Wednesday congratulated the Filipinas, describing the team's triumph as a significant milestone in Philippine football history.
"Their hardwork, dedication and passion for the sport have paid off in the most spectacular way, proving that with teamwork and belief, anything is possible," Nograles said in a statement.
The victory, she said, not only serves as a testament to the potential of the Philippine women's football team but also inspires generations of aspiring athletes to pursue their dreams fearlessly and strive for excellence.
"I am very proud especially of fellow Davaoeña Sara Eggesvik who facilitated the assist for that one historic goal of Sarina Bolden," she added.
Nograles believes that there is more to see in the coming days that will glorify and make the Philippines known in football and in other fields of sport as well.
"We are proud of you, and we eagerly await your future endeavors as you continue to make the Philippines shine brightly on the international football stage. Mabuhay ang Philippine Women's National Football Team!" Nograles said. (PNA)