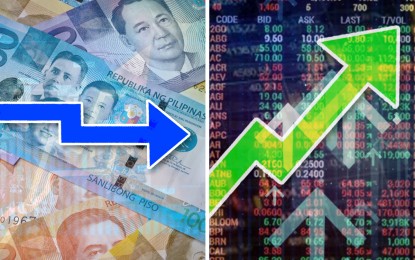 MANILA – Local shares reacted positively to the International Monetary Fund's (IMF) upward revision of the country's economic growth forecast, while the peso closed sideways during Wednesday's trading.
The Philippine Stock Exchange index (PSEi) improved by 18.02 points to 6,679.13, finishing in the green for two straight days.
All Shares also increased by 5.63 points to 3,456.01, with sectors divided into green and red.
On Tuesday, the IMF adjusted upward its outlook on the Philippines' gross domestic product to 6.2 percent from its 6 percent forecast in April.
"The revision was said to be driven by the expectation that domestic demand will continue to be robust," Regina Capital Development Corp. head of sales Luis Limlingan said.
Overseas, Limlingan said, investors digested the latest earnings reports released ahead of the Federal Open Market Committee (FOMC) minutes, as well as the oil trading in the global market, which rose to fresh three-month highs due to tighter supplies and the stimulus that the Chinese authorities would implement to fuel its economy.
Translating the higher prices of oil in the world market, local shares of Mining and Oil at the PSE climbed 148.66 points to 10,434.79.
Other gainers are Holding Firms and Services, which added 63.93 and 1.43 points, respectively.
The largest losses were recorded by Industrial, down by 26.82 points, followed by Property at 11.29 points, and Financials at 2.13 points.
Total shares traded this day reached more than 462.23 million, amounting to PHP4.44 billion.
Decliners outpaced gainers at 87 to 78 while 56 firms maintained their shares.
Meanwhile, the Philippine peso and US dollar trading closed Wednesday at 54.62, shedding 0.07 from the previous day's 54.55 finish.
It opened the trading at 54.60, the same starting level on Tuesday.
The peso-dollar exchange rates went from a low of 54.56 to a high of 54.69, with a weighted average of 54.64.
The total volume of trade on Wednesday was valued at USD987.1 million, down from the previous day's USD1.10 billion. (PNA)