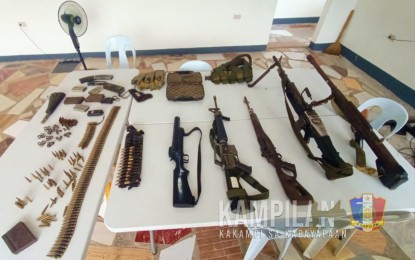 CAMP SIONGCO, Maguindanao del Norte – Government forces in Maguindanao del Sur clashed with Dawlah Islamiya (DI) terrorist group fighters during an operation in Rajah Buayan town and recovered five high-powered guns on Wednesday dawn.
Lt. Colonel Udgie Villan, Army's 33rd Infantry Battalion (33IB) commander, said on Thursday his unit backed the Maguindanao police in serving arrest warrants against eight suspected DI members hiding in Barangay Tabungao, Rajah Buayan when an encounter erupted.
"As the lawmen approached the DI lair at about 4 a.m., the terrorists opened fire, triggering a 30-minute firefight," he said.
The terrorists, however, managed to flee, leaving their hideout where a .60-caliber light machinegun, a .50-caliber Barrett sniper rifle, an M16 rifle, a Garand rifle, a grenade launcher, and ammunition were recovered.
Seven children and three women were found in the DI safehouses and were unhurt during the firefight. They were turned over to the local government's social services office.
Principal subjects of the warrants are Jaffer Mariano of the DI Hassan Group and Solaiman Nilong of the DI-Maguid Group, Villan said.
The groups were linked to bus bombings, highway robberies, extortion, and bomb attacks against state forces in Maguindanao del Sur and Sultan Kudarat provinces.
Major General Alex S. Rillera, Army's 6th Infantry Division commander, lauded the operating units and told them not to lose hope.
"They may have escaped now but they cannot escape forever. In due time they will fall so that peace will reign in this region," Rillera said.
Meanwhile, in support of the government's campaign against loose firearms, local officials of Talitay town in Maguindanao del Norte have surrendered 11 high-powered guns to the Army's 601st Infantry Brigade.
Brigadier General Oriel Pangcog, 601st brigade commander, received the firearms from Talitay Mayor Sidik Amiril on Wednesday during a "Balik Baril" program at the town hall.
The loose firearms include four grenade launchers, a Garand rifle, a .30-caliber Barrett sniper rifle, two 7.62mm sniper-type rifles, rocket-propelled grenade launchers, and ammunition. (PNA)