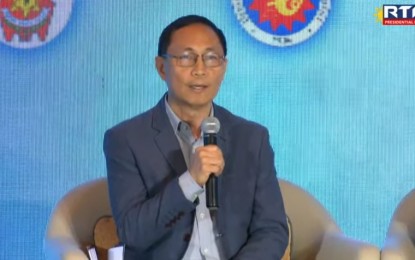 MANILA – The Department of the Interior and Local Government (DILG) has vowed to assist local government units (LGUs) that would be unable to keep up with the full devolution of some basic services and facilities from the national government.
"We came up with analytics and we look at the capacity, particularly the capacity development needs of our LGUs and we share this with the different national government agencies, aside from that, we look at the result of the seal of local governance where we came up with, we identified LGUs which are high capacity and high performance, LGUs which are low capacity, low performance, LGUs which are low capacity and high performance and the last category is high capacity, low performance so that we would focus more our effort, our time in assisting local government units which belong to the category of low capacity, low performance," DILG Undersecretary Marlo Iringan said during the Post-State of the Nation Address (SONA) Discussions at the Hilton Hotel Manila in Pasay City on Wednesday afternoon.
Iringan said not all LGUs have equal access to resources and capabilities to respond to different challenges and the needs of their constituents.
Meanwhile, he added that they support the extension of the transition period for the full devolution until 2027 to give ample time to the local government units to beef up and increase their capacities.
Iringan said Secretary Benjamin Abalos Jr. is consistently coordinating with the Department of Budget and Management to help address concerns raised by LGUs.
"We came up with a recommendation that we need to properly delineate the functions at the LGUs level where these functions and services will have to be devolved. Particularly we are looking at targeted programs, projects and activities these are programs, projects, and activities that would require big funding, big funds, would require the specialized technical expertise of local government functionaries, it will be best implemented through economies of scale so those are the things that we thought should be implemented by higher levels of government, particularly the national government and the provinces," he explained.
Under Executive Order 138 signed by former president Rodrigo Duterte in 2021, select functions, services, and facilities of certain national government agencies related to local infrastructure, health care, livelihood, agriculture, and social welfare, among others, will be transferred to LGUs under their increased fiscal resources.
This complies with the Supreme Court ruling in favor of the petitions of Batangas Governor Hermilando Mandanas and former Bataan Governor Enrique Garcia Jr. saying that LGUs are entitled to just shares from all national taxes collected by the government.
Meanwhile, Iringan said on the government's flagship program Buhay Ingatan, Droga'y Ayawan (BIDA), which covers both supply and demand reduction measures, continues to reap gains.
Iringan noted that more than 21,000 operations resulted in the apprehension of more than 26,000 suspects with a drug haul amounting to more than PHP20 billion. (PNA)