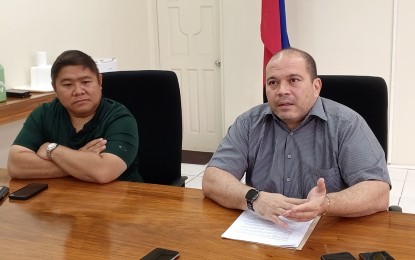 BACOLOD CITY – The Sugar Regulatory Administration (SRA) will proceed with the reopening of the milling season on September 1 for the crop year 2023-2024 to ensure higher yield and increased revenue, especially for small sugar farmers.
In a press conference at the SRA office here on Thursday, Administrator Pablo Luis Azcona made the declaration in response to the letter he received from the Sugar Council, comprising three planters' federations, asking to retain the start of the milling operations in August.
"We, at the SRA and the present administration, our main thrust is to improve production capacity because we are so import-dependent and we want to move away from that. We want to be self-sufficient. If we do not impose the proper milling time, our farmers will continually mill younger and younger canes," he said.
Azcona said that if allowing canes to grow longer to have better yield is one solution, the SRA will implement it, considering the advantages it will bring to small farmers.
Some 85 percent of the more than 380,000 hectares planted to sugarcane in the country belong to small farmers, who are agrarian reform beneficiaries, tilling only one hectare to two hectares each.
"We should also find a way to support the small farmers and make them have better yield and earn more," the SRA chief said.
A computation of the August and September production in the previous crop year showed that in August, some 432,000 tons of canes were milled with an average 1.4 LKg/TC (50-kilo bag per ton cane) at an average price then of PHP2,800 per LKg bag of sugar or a total of PHP1.8 billion in revenues.
A month later in September, the same volume of canes milled showed higher yield, with an average LKG/TC of almost 1.7 at an average price of PHP3,300 per LKg bag or a total of PHP2.5 billion.
"It's a big difference of about PHP700 million which could have been additional income for our farmers. Most, if not all of those who milled in August of last year were our small farmer beneficiaries," Azcona said.
In their letter to Azcona, the Sugar Council, which includes the Confederation of Sugar Producers' Associations Inc., National Federation of Sugarcane Planters, and Panay Federation of Sugarcane Farmers, claimed that delayed harvest will compromise sugarcane purity and tonnage.
"I know that the people who are pushing for August milling are saying that if we move the opening date from mid-August to September 1, the canes will be overaged, I am a farmer myself, I know that is not true," said Azcona, who farms in Kabankalan City, Negros Occidental and traditionally mills in October.

He noted that among the nine sugar mills in Negros, only one protested the start of the milling operations on Sept. 1.
"Since the majority agree with the memo, we expect everyone to adapt to the new schedule," he added.
Azcona said the Sept. 1 mill reopening is "a first in a series of deferment of dates in the next three years to go back to the original mill opening which is October 1".
"By 2025, we will (be) back on track with the hope that our annual production will increase," he added.
SRA Board Member Dave Sanson, who represents the planters, said he has been consulting with small farmers in Negros Occidental, who are also amenable to the Sept. 1 reopening if it will bring them better yield and income.
"There's no problem with the small farmers," he added. (PNA)