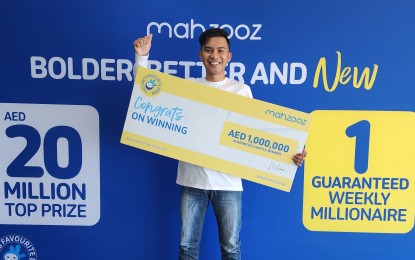 MANILA – A Filipino national who has been working as a filing clerk in the United Arab Emirates (UAE) for two years became an instant millionaire after bagging AED1 million or around PHP14 million in a lotto draw in the Arab state.
Mahzooz only identified the winner as John, who won the guaranteed raffle prize of AED1 million at the 138th Mahzooz weekly draw held on July 22, 2023.
The win makes John the 53rd millionaire to be crowned by Mahzooz, the UAE's leading weekly lotto draw.
To date, around 54,000 overseas Filipino workers have been fortunate recipients of more than AED 67 million through the draw.
John came to the UAE two years ago to work alongside his mother as a filing clerk at his uncle's laundry in Karama, Dubai.
The 26-year-old OFW, who contemplates his future plans with the newfound fortune, has expressed interest in investing in a laundry business in the UAE.
While he hasn't finalized the details, he is considering whether to expand his uncle's existing laundry business or embark on a new venture in the same industry.
John also plans to support his father's farming business back home by sending some of the prize money to further enhance their family's livelihood.
Filled with joy and gratitude, John conveyed his heartfelt sentiments about the win.
"This is the first time I won anything in my entire life. Coming to the UAE was a huge step for me as I am the main breadwinner of my large family," he said.
"Now the UAE and Mahzooz have awarded me this huge prize which I still cannot fathom. My four brothers and two sisters are extremely happy for me and I am forever grateful for this huge win," he added. (PNA)