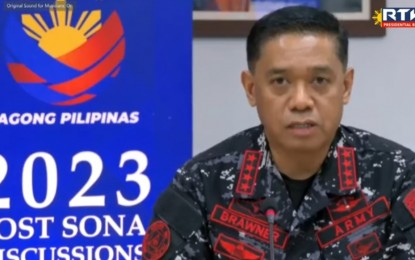 MANILA – Armed Forces of the Philippines (AFP) chief Gen. Romeo Brawner Jr. on Friday said the death of a ranking New People's Army (NPA) leader in an encounter with troops in Northern Mindanao will help hasten the defeat of the communist movement.
In a statement, the AFP chief cited 4th Infantry Division troops for their successful military operation in Gingoog City, Misamis Oriental that resulted in the death of Northern Central Mindanao Regional Committee (NCMRC) Secretary Dionisio Micabalo, also known as "Muling," last July 26.
"As the AFP has attained strategic victory against local and communist terrorist groups with most of their armed members neutralized, those who remain are in survival mode," Brawner said.
The AFP chief earlier claimed strategic victory against communist and local terrorist groups.
"This presents an opportunity for us to dismantle and defeat all remaining armed components to end insurgency and prevent their resurgence," he added.
Micabalo's group was notorious for perpetrating numerous atrocities and criminal activities in areas such as Bukidnon, Misamis Oriental and parts of Agusan del Norte and Agusan del Sur.
In the encounter, troops captured one "AK rifle" along with a .22-caliber rifle along with various war materiel and personal belongings.
Micabalo, 61, who hails from Dancagan, Bukidnon, is wanted for charges including rebellion, double murder with frustrated murder, multiple frustrated murder and arson, as well as murder and violation of Republic Act 9851 or Act on Crimes Against International Humanitarian Law, Genocide, and Other Crimes Against Humanity.
He was considered one of the top two NPA leaders in the region, with Myrna Sularte, also known as "Iyay/Imang," operating in most parts of Caraga Region.
Meanwhile, 4th Infantry Division commander Maj. Gen. Jose Maria R. Cuerpo II commended the efforts of the 58th Infantry Battalion and the 402nd Infantry Brigade.
He said Micabalo's demise is a significant blow to the NPA and may lead to the weakening and disintegration of criminal activities in Northern Mindanao.
He also acknowledged the positive impact of the government's amnesty proclamation for former rebels, encouraging remaining NPA members to abandon violence and contribute to the region's peaceful and prosperous development. (PNA)