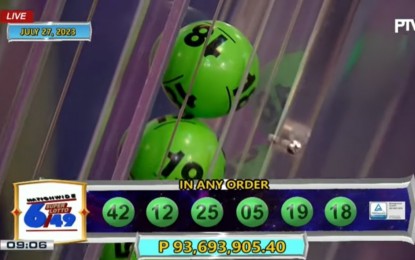 MANILA – A lone bettor from Bulacan province became an instant millionaire after winning the jackpot of Thursday night's Super Lotto 6/49 draw.
In an advisory Friday, Philippine Charity Sweepstakes Office (PCSO) general manager Melquiades Robles said the bettor guessed the winning combination 42-12-25-05-19-18, which carried a total jackpot prize of PHP93,693,905.40.
The ticket was purchased in Balagtas, Bulacan.
Meanwhile, 104 other bettors won PHP50,000 each for guessing five out of the six winning digits, while 3,573 will get PHP1,200 each for four correct digits, and 50,066 will settle for PHP50 each for three correct digits.
The bettor can claim the check at the PCSO main office in Mandaluyong City upon presenting the winning ticket and two identification cards.
Lotto winnings of more than PHP10,000 are subject to a 20 percent tax under the Tax Reform for Acceleration and Inclusion law.
Prizes not claimed within a year shall be forfeited.
The Super Lotto 6/49 is drawn every Tuesday, Thursday, and Sunday.
Robles urged the public to patronize these games to generate more funds for health programs, medical assistance and services and charities.
Also on Thursday, Robles and other PCSO officials signed a memorandum of agreement (MOA) with the Office of the Vice President (OVP) in Mandaluyong City for the transfer of PHP10 million in funds to support the OVP's Medical Assistance Program.
The OVP's Medical Assistance Program includes providing financial assistance for hospital bills, dialysis treatment, medicines, laboratory procedures, chemotherapy, brachytherapy, radiation therapy, implants, medical equipment, assistive devices and physical/speech/occupational therapy.
Aid for typhoon victims
Robles, meanwhile, led the distribution of food packs, bottled water, and medicines to families staying at an evacuation center in Barangay San Julian Norte, Vigan, Ilocos Sur on Friday.
The activity is part of the PCSO's relief drive in the Ilocos Region and Kalinga for residents severely affected by Typhoon Egay.
As the relief effort coincides with his first year in office, Robles also turned over relief goods for other areas in Ilocos Sur to Governor Jerry Singson, Vice Governor Ryan Singson, Vigan Mayor Jose Singson, and Vice Mayor Randolf Singson.
Meanwhile, PCSO offices in La Union, Ilocos Norte, and Kalinga simultaneously delivered assistance to residents who were battered by the typhoon.
PCSO Ilocos Norte/La Union Branch Manager Lalaine Martos, Ilocos Sur Branch Manager Elizabeth Posadas, and Kalinga Branch Manager Heherson Pambid took charge of the relief drive in their respective areas.
The initiative was rolled out upon the order of President Ferdinand R. Marcos Jr., requesting the PCSO to extend aid to calamity-stricken families in the Ilocos region.
Recognizing the urgent need for assistance, Robles promptly ordered the coordination of branch offices and Small Town Lottery Authorized Agency Centers in these provinces to ensure the smooth distribution of aid to the affected families.
"Our office is committed to providing immediate relief to the affected families in collaboration with the local organizations and government units," he said in a statement.
"We have established a direct presence in the regions and are continuously in contact with parallel organizations that can assist the local government units in ensuring the timely distribution of relief services and necessities to the affected communities," he added. (PNA)