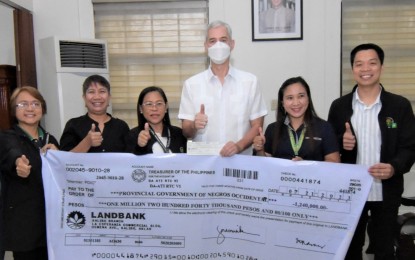 BACOLOD CITY – The Department of Agriculture-Agricultural Training Institute (DA-ATI) has released PHP1.64 million in financial grants to Negros Occidental province for the implementation of various programs.
Data on Friday showed that the funding assistance is provided for four initiatives, one of which will be spearheaded by the provincial government.
Having been chosen as the pilot province in Western Visayas for the implementation of the Province-led Agriculture and Fisheries Extension System (PAFES), Negros Occidental headed by Governor Eugenio Jose Lacson received a check of PHP1.24 million from the ATI Regional Training Center-Western Visayas during the turn-over rites held at the provincial capitol here on July 26.
Under the program, the province will serve as an extension hub that synchronizes agricultural plans and programs as well as coordinate the activities of various stakeholders together with the DA that will co-plan, co-invest, co-implement, and co-monitor priority projects.
"To strengthen the collaboration between the DA, local government units, academe and the private sector, the PAFES is institutionalized to bring extension services to the grassroots level amid the challenges of devolution," the DA-ATI said in a briefer.
A Project Management Center, named Occidental Negros Agricultural Fisheries and Extension System, will manage and implement the PAFES in the province.
To establish the collaboration, a memorandum of agreement had earlier been signed and approved among the DA, Negros Occidental provincial government, Central Philippines State University, Association of Chief Executives of Negros Occidental, Provincial Agriculture and Fisheries Council, Coalition for Agriculture Modernization in the Philippines, Federation of Multi-Sectoral Alliance for Development and Metro Bacolod Chamber of Commerce and Industry.
Under the agreement, the DA-ATI will provide sustained annual co-financing to the Provincial Agriculture and Fisheries Extension Center together with other funding agencies.
"Thus, the awarding of PAFES grant of PHP1.24 million to the province of Negros Occidental," it added.
Meanwhile, two learning sites for agriculture in Negros Occidental accredited by the ATI Regional Training Center-Western Visayas also received grants of PHP150,000 each.
These are the EDJ Integrated Farm in Don Salvador Benedicto town and Power Foundation in Bago City.
Calatrava town resident Danica Joy Aguiero received a PHP100,000 grant for the establishment of an urban garden project, including the construction of a vermicomposting facility and plant boxes related to ATI's National Urban and Peri-urban Agriculture Program. (PNA)