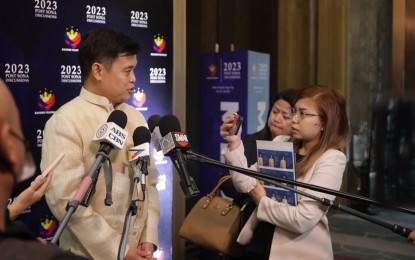 MANILA – The Climate Change Commission PH (CCC) lauded President Ferdinand R. Marcos Jr.'s second State of the Nation Address (SONA) emphasizing the critical importance of climate action in building a sustainable economic agenda for the Philippines.
In his SONA, Marcos reiterated that "the building blocks of progressive, livable and sustainable communities will never be complete without appropriate and responsible action to mitigate and adapt to the effects of climate change."
For this year, the Philippine government's budget for climate change programs and projects, as tagged by various national government instrumentalities, is PHP464.5 billion, which is 60.32 percent higher compared to 2022 allocation.
From this year's climate budget, PHP411.21 billion or 88 percent is aimed to finance climate change adaptation initiatives as programmed and to be implemented by different government agencies, and PHP53.29 billion for climate change mitigation.
Under the 2024 National Expenditure Program, PHP543.45 billion is earmarked for climate action, supporting the government's decarbonization and resilience-building efforts.
Consistent with the pronouncements of the President in SONA, the CCC will continue to collaborate with government agencies and stakeholders to further ensure that climate change is integrated and mainstreamed in national policies, planning, decision-making and implementation.
The CCC will further strengthen the implementation of the National Climate Risk Management Framework and update the National Climate Change Action Plan and the Nationally Determined Contribution.
The National Adaptation Plan is currently being developed to enhance the country's resilience to the impacts of climate change.
Further, all local government units (LGUs) are targeted to be capacitated in mainstreaming climate action in local governance. As of July 2023, the CCC has received a total of 1,472 Local Climate Change Action Plans (LCCAPs) out of 1,715 LGUs.
The CCC shares Marcos' vision of a whole-of-government and whole-of-society approach, including in dealing with the climate crisis, emphasizing "collaboration between government offices, the private sector, industries, academe, international partners, and most importantly, among our populace."
To further harness stronger cooperation with key stakeholders in advancing transformative climate action, the CCC established and will further strengthen the following coordination mechanisms with various entities:
--WE CAN or Working to Empower Climate Action Network for Civil Society Organizations,
--ENACT or Empowering Nurtured Alliance for Climate Action and Transformation for Development Partners,
--CONNECT or Communicating Opportunities to Network, Navigate, and Explore Climate Transformation for the Private Sector, and
--ACT LOCAL or Accelerating Climate Action and Transformation for Local Communities for Local Government Units.
"The CCC remains committed to advance and pursue the realization of President Marcos, Jr.'s vision for a low-carbon, climate-smart and climate-resilient Philippines, and transformative economic growth, with the unlocking of the development of the green and blue economies," CCC Vice Chairperson and Executive Director Robert E.A. Borje said in a news release on Friday.
"And, in line with the whole-of-government and whole-of-society approach, hinihikayat ng CCC ang lahat na makiisa sa malawakang bayanihan para sa klima, patungo sa isang Bagong Bansang Matatag. (the CCC encourages everybody to join massive climate action towards a new resilient nation)," he added.
As the government's lead policy-making body on climate change, the CCC stands ready to work hand in hand with all stakeholders, to ensure that climate change remains at the forefront of the government's national agenda. (PR)