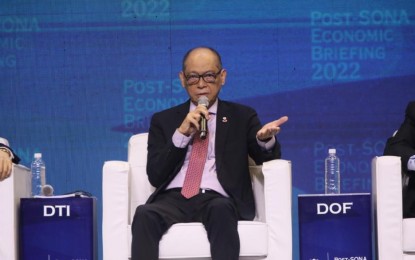 MANILA – The Fiscals Incentives Review Board (FIRB), the interagency body given the authority to grant tax incentives to registered business enterprises, approved the tax incentives of 25 projects since the start of President Ferdinand R. Marcos Jr.'s term.
"Since the beginning of the PBBM administration to today, the FIRB has approved 25 projects worth a total investment capital of 287.9 billion pesos," Department of Finance (DOF) Secretary Benjamin Diokno said in his weekly press chat.
Diokno said these are expected to generate around 24,617 jobs in telecommunications, data centers, manufacturing, infrastructure, tourism, hospitals, mass housing, energy and Information Technology-Business Process Management (IT-BPM).
Some of the biggest activities include the nationwide energy projects by Enovate Motors Corporation (PHP16.0 billion) and Century Summit Carrier (PHP15.8 billion), data center projects by Evolution Data Centres Philippines (PHP9.7 billion) and Digital Edge Philippines (PHP5.4 billion).
Other big projects include the telecommunications infrastructure in multiple locations by Unity Digital Infrastructure (PHP147 billion) and LBS Digital Infrastructure Corporation (PHP36 billion).
Pursuant to Republic Act (RA) 11534, or the Corporate Recovery and Tax Incentives for Enterprises (CREATE Act), the powers and functions of FIRB are enhanced as part of its oversight mandate.
The FIRB is mandated to oversee the grant of incentives for projects with investment value amounting to more than PHP1 billion each.
For registered projects or activities with investment capital worth PHP1 billion and below, the FIRB has delegated to the country's investment promotion agencies the grant of tax incentives. (PNA)