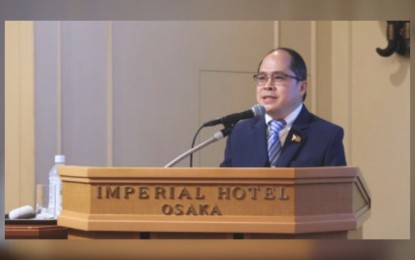 MANILA – Philippine Economic Zone Authority (PEZA) Director General Tereso Panga on Monday said at least three Japanese companies have expressed keen interest to invest in the Philippines during the recent outbound mission of the agency in Osaka and Tokyo.
"Most noteworthy would be the commitment of Ichijo Corp. to finalize its expansion plans in 2024, along with possible expansion plans of the Shin-Etsu Corporation, OB Kogyo, Ltd., and NEC Networks & System Integration Corp.," Panga said in a statement.
Last July 16 to 22, the investment promotion agency (IPA), Aboitiz InfraCapital (AIC) Economic Estates and the Philippine Trade and Investment Centers in Osaka and Tokyo co-organized the Philippine-Japan investment fora in the two Japanese cities.
The fora promoted investment opportunities in the Philippines in sectors of manufacturing, information technology and business process outsourcing (ITBPO), and agro-processing through PEZA.
Japanese home builder Ichijo targets to pour in new investments to ramp up its housing delivery capacity to 20,000 units annually from its current capacity of 15,000 units a year. The expansion will also add up 3,000 to 4,000 workers to its current headcount of 23,000 workforce.
Die and mold company OB Kogyo also eyes to invest additional USD3 million in its manufacturing facility here over the next three years to boost its production capacity.
Rare earth magnets research and production firm Shin-Etsu is also looking to expand in the Philippines. Its investment decision will depend on the global growth of the electric vehicle industry.
Meanwhile, PEZA shared that it approved three big-ticket projects from Japan with combined pledges of PHP20.59 billion.
These came from the project registrations of Green Energy with Torrefaction Technology, Inc., Asian Transmission Corporation, and Pricon Microelectronics, Inc.
Investments of these firms will create additional 1,973 jobs in the PEZA zones.
"These recent big-ticket investments prove that trust and confidence in investing in the Philippines, particularly from our long-standing trade partners such as Japan, are at an all-time high. Led by no less than President (Ferdinand R.) Marcos Jr., we will be doubling down on our aggressive and targeted approach to investment promotion," Panga said.
With the appetite of Japanese firms to invest and expand in the Philippines, Panga said this will support the investment approval target of PEZA to grow by at least 10 percent.
"To date, 881 Japanese companies are registered with PEZA, bringing in PHP766.550 billion worth of investments in the country, with exports of USD5.362 billion and generating up to 340,601 direct jobs for Filipinos," he added. (PNA)