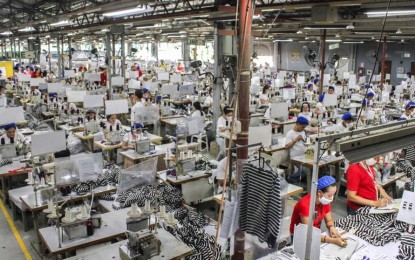 MANILA – The Confederation of Wearables Exporters of the Philippines (Conwep) expects the garments, textile, footwear and bags to have the largest surge in exports to Europe with a free trade agreement (FTA) with the European Union (EU) in place.
On the sidelines of a press briefing hosted by the Department of Trade and Industry (DTI) in Makati City Tuesday, Conwep executive director Maritess Jocson-Agoncillo said the sector can reach exports of USD900 million to USD1 billion in three to four years from European market alone once the EU-Philippines FTA enters into force.
"Even with the announcement (of the FTA), it can move so easily in the first year a hundred percent jump from USD200 million to USD300 million. In three to four years after an FTA is in place, I can do a billion (dollars) just from Europe... Because the US market is USD900 million, it (EU) can equal the US market --USD900 million to USD1 billion," she said.
Jocson-Agoncillo said that in first three years of FTA being in place, employment could increase by 100,000 to 200,000 jobs.
The industry is currently employing over 260,000 personnel, she added.
On Monday, European Commission President Ursula von der Leyen confirmed the resumption of the EU-Philippines FTA negotiations during his two-day visit in Manila.
"The surge will be coming from us —the garments sector, manufacturing (of) shoes and bags— simply because we have a limited access at the moment because of the GSP (Generalised Scheme of Preferences) restrictions on the rules of origin," Jocson-Agoncillo said.
She said that even with the EU GSP+, Philippine-made wearables exported to the EU are still slapped with 12-percent duty due to the rules of origin under the Multifiber Arrangement (MFA) of the World Trade Organization (WTO).
She added part of the offensive interest of the Philippines in the FTA negotiations with the EU is the liberalizing of the rules of origin for Philippine garments and wearables.
The European market is the country's third largest export market for Philippine wearables next to the United States and Japan. However, the share of the entire Europe in export revenues is only at 7.5 percent.
Jocson-Agoncillio said the local industry should develop its value chain particularly investing in textile mills for the Philippines to maximize the benefits of the possible EU-Philippines FTA.
She said the EU-Philippines FTA will also increase investments in the country's garments and textile industry.
DTI Secretary Alfredo Pascual targets to restart the scoping discussions for a free trade deal with the EU in September and conclude it before 2023 ends to start the formal talks by 2024.
DTI Undersecretary Ceferino Rodolfo said the Philippines will be adding more items in the list of its offensive interest while retaining the initial items in the scoping paper that was concluded in October 2015.
"Rather than removing, I think we're adding… Digital trade will be there, the critical minerals, and more discussions on trade and sustainable development. And then making sure that we have the mechanisms for entry of our garments and wearables through the rules of origin," Rodolfo said. (PNA)