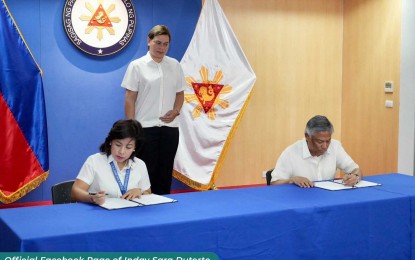 MANILA – The Office of the Vice President (OVP) is eyeing to expand its medical and burial assistance (MAB) program after signing on Tuesday an agreement with the Philippine Amusement and Gaming Corporation (Pagcor) for a PHP120 million supplemental funding.
In a news release, the OVP announced that the grant covers payment of medical bills, dialysis treatment, medicines, laboratory and diagnostic procedures, implants and other medical and assistive devices, chemotherapy, brachytherapy, radiation, physical, speech and occupational therapy.
Witnessed by Vice President Sara Duterte and Pagcor officials, the OVP announced that the memorandum of agreement (MOA) was signed by OVP chief of staff and Undersecretary Zuleika Lopez and Pagcor chairperson and CEO Alejandro Tengco at the OVP Central Office in Mandaluyong City.
Last week, the OVP also signed a MOA with the Philippine Charity Sweepstakes Office (PCSO) for a supplemental funding grant amounting to PHP10 million through the latter's Board Resolution M-0087 dated Dec. 14, 2022.
Lopez signed the agreement with PCSO General Manager Melquiades Robles with the Vice President and PCSO officials as witnesses.
The MAB, which is the OVP's banner program for social services, has continuously been providing aid to indigent Filipinos across the country.
However, the OVP reminded that the free public assistance application forms, which are available at the central and satellite offices, should solely be used by the clients requesting for such services.
The aid can also be accessed through the OVP Central Office, OVP Extension Offices in Lipa, Batangas and Tondo, Manila, and 10 OVP satellite offices in the cities of Davao, Zamboanga, Cotabato, Surigao, Cebu, Bacolod, Tacloban, Isabela, Dagupan and Legazpi.
Based on the OVP's records from July last year to July 27 this year, the MAB program has already served 82,353 beneficiaries and processed the amount of PHP764,802,065.60, which currently has total of 756 partners from public and private hospitals and dialysis centers nationwide. (PNA)