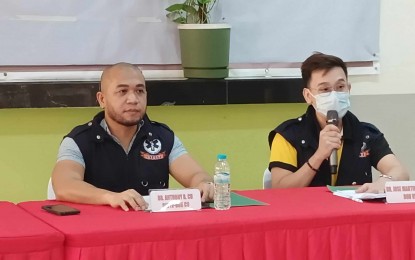 ILOILO CITY – Around 4, 447 individuals coming from targeted priority sectors in Western Visayas have so far received the bivalent Pfizer coronavirus disease 2019 (Covid-19) vaccine, the Department of Health Western Visayas Center for Health Development (DOH WV CHD) said on Tuesday.
In a press conference, Dr. Jose Martin Atienza of WVCHD said the figure was just 37.81 percent of the 11,760 allocated doses to the provincial and city health offices.
Atienza said they have recommended the pullout of the allocation in hospitals should they no longer have an eligible population and transfer them to rural health units and district health centers.
"If there are people who want to be vaccinated by the Pfizer bivalent either for first, second, or booster dose, we highly encourage them to go to their nearest health center because probably within this week, if not in the succeeding weeks, it will already be available in health facilities per provinces or highly urbanized cities," he said.
Meanwhile, Dr. Anthony Cu, Director IV of the DOH Field Operation System Management, said the utilization of the bivalent vaccine covers primary doses for priority groups A1 (healthcare workers), A2 (senior citizens), A3 (adults with comorbidities) and their sub-priority groups.
Memorandum no. 2023-0256 issued by the DOH set the guidelines for expanded coverage.
"We make the bivalent vaccine no longer limited as a third booster shot but can already be given as first, second or third booster shot for senior citizens, health care workers and people with co-morbidity," Cu added.
He said they are also actively negotiating with the Covid-19 Vaccines Global Access (COVAX) Facility for around two million doses of the bivalent vaccine.
The two physicians also called on the public to continue being vigilant, observe the minimum public health standards (MPHS), and get their primary or booster doses even with the lifting of the state of the public health emergency.
"The cases will not be gone, but we will adopt the definition of the new normal. There might be positive cases, but what is important is the vaccine is working and most of the cases will not turn into severe forms," Atienza said.
"Vaccine remains to be the safest, most effective, cost-efficient and readily available way of having additional protection against vaccine-preventable diseases," he added.
Other than the bivalent vaccine, the Pfizer orange cap for the 5 to 11 years old age group and Sinovac for other age groups are also available in Western Visayas. (PNA)