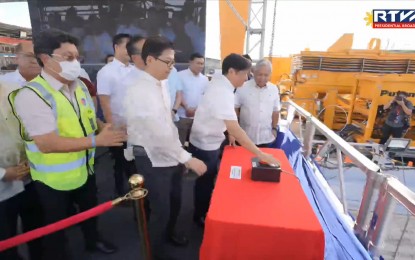 MANILA – President Ferdinand R. Marcos Jr.'s Build Better More Program will get PHP1.418 trillion of the proposed PHP5.768-trillion 2024 National Expenditure Program (NEP) that the Department of Budget and Management (DBM) submitted to the House of Representatives on Wednesday.
In his budget message submitted to Congress, Marcos said the Build Better More Program seeks to expand the country's "Golden Age of Infrastructure."
The PHP1.418-trillion allocation for the program in the 2024 budget is equivalent to 5.3 percent of the gross domestic product (GDP), and includes the Public Sector Infrastructure budget of the Department of Transportation (DOTr) and the Department of Public Works and Highways (DPWH) amounting to PHP176.4 billion and PHP801.2 billion, respectively.
"The National Economic Development Authority (NEDA) Board has approved 194 high-impact infrastructure flagship projects ranging from public transport, power, health, information technology. Water resources and agriculture, 123 of which were initiated in this Administration," Marcos said.
These include the Nort-South Commuter Railway System and the Metro Manila Subway Project Phase I under the rail Transport Program; the Land Public Transportation Program and the Aviation and Maritime Infrastructure Programs of the DOTr.
Social infrastructure
"To ensure an inclusive economic transformation, the Build Better More Program also focuses on social infrastructure," the President said.
A total of PHP40.6 billion has been allotted for the construction or improvement of public school buildings, including efforts to make these disaster-resilient while PHP15.3 billion has been allocated for the construction, repair and/or improvement of public hospitals and health centers nationwide.
In furtherance of peace and economic development in the Bangsamoro Autonomous Region in Muslim Mindanao (BARMM), PHP2.3 billion has been appropriated for the PAMANA or the PAyapa at MAsaganang PamayaNAn Program to be implemented by the Office of the Presidential Adviser on Peace, Reconciliation and Unity (OPAPRU).
This includes the PHP5-billion allocation for social infrastructure projects such as roads and bridges (PHP4.2 billion), water supply systems (PHP569 million), evacuation center (PHP176 million), fish ports (PHP35 million), and flood control (PHP10 million).
Roads and bridges
To complement the efforts of the DOTr, the DPWH allocated PHP822.2 billion to build, maintain and rehabilitate roads and bridges nationwide.
A total of PHP148.1 billion will fund the Network Development Program, which will be used to build 721.656 kilometers of new roads, and widen or improve 647.288 kilometers of existing roads.
The DPWH's Asset Preservation Program will also receive PHP115.6 billion to implement preventive maintenance of 1,186,398 kilometers of roads and bridges.
The Bridge Program will receive PHP45.8 billion for the construction of 15,208 lineal meters of bridges, and maintenance, retrofitting, repair, rehabilitation, as well as widening of 525 existing bridges.
Mass transport systems
"Transportation policy can have significant and lasting impacts on overall economic growth," Marcos noted.
"Hence, with the urgent need to improve our country's public mass transport system and reduce road congestion, we have doubled the budget for the DOTr from PHP106 billion in the 2023 GAA (General Appropriations Act) to PHP214.3 billion for 2024," he said.
Over 76.4 percent of the DOTr budget, or PHP163.7 billion, will be allocated to the Rail Transport program, which seeks to improve the country's current railway systems and build new ones.
The program includes the development of the North-South Commuter Railway System (PHP76.3 billion); the Metro Manila Subway Project Phase I (PHP68.4 billion); LRT Line I Cavite Extension Project (PHP4.7 billion); Philippine National Railways South Long Haul Project (PHP3.1 billion); and the MRT 3 Rehabilitation Project (PHP2.9 billion).
Land public transportation
The Land Public Transportation Program, which aims to improve and modernize public transport in the country, will receive PHP6.4 billion in 2024.
Projects to be funded under the program include the Davao Public Transport Modernization Project (PHP1 billion); EDSA Busway Project (PH909 million); Cebu Bus Rapid Transit Project (PHP700 million); Active Transport Bike Share System and Safe Pathway Program in the Metropolitan Areas (PHP500 million); and the EDSA Greenways Project (PHP263 million).
Aviation infrastructure
The Aviation Program of the DOTr, meanwhile, will receive PHP6.1 billion in 2024 with the aim of modernizing and globalizing the country's airports.
A total of PHP1.3 billion will be allocated to the new Communications, Navigation and Surveillance/Air Traffic Management (CNS/ATM) System Development Project to improve air traffic management in airports nationwide.
The construction, rehabilitation and improvement of the following airports have also been given corresponding budget allocations: Ninoy Aquino International Airport (PHP1.6 billion); Kalibo International Airport PHP581 million); New Dumaguete Airport Development Project (PHP500 million); Laoag International Airport (PHP500 million); Tacloban Airport (PHP500 million); Busuanga Airport (PHP405 million); New Zamboanga International Airport (PHP300 million); New Manila International Airport PHP200 million); Bukidnon Airport (PHP120 million); and New Bohol Airport Construction and Sustainable Environment Projects (PHP97 million).
Maritime, Tourism and Trade, Digital infrastructures
Meanwhile, the DOTr's Maritime Infrastructure Program will receive PHP988 million, which will include PHP625 million for the Maritime Safety Enhancement Project.
Another PHP134 million will go to the Maritime Safety Capability Improvement Project Phase I to improve response capabilities in maritime incidents and enhance the conduct of maritime law enforcement and security operations.
The Convergence and Special Support Program of the DPWH will get PHP26.6 billion for access roads to tourist destinations, airports, railway stations, sea ports, trades, industries, and economic zones that will be built and improved in 2024.
The Build Better More Program also includes projects for digital infrastructure, such as the National Government Data Center Infrastructure with an allocation of PHP1.7 billion; and the National Government Portal, with an allocated PHP 303 million.
"One of the keys to continuing economic growth is infrastructure development. So, we will build better, and more," Marcos said, reiterating his message during his second State of the Nation Address. (PNA)