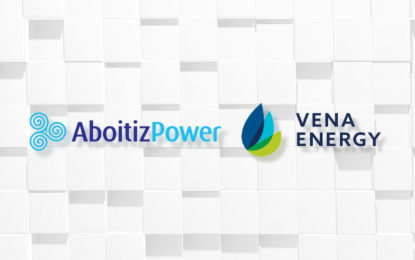 MANILA – Aboitiz Power Corp. unit Aboitiz Renewables Inc. (ARI) said Thursday it partnered with Singapore-based Vena Energy for a greenfield 102-megawatt wind power project encompassing the provinces of Rizal and Laguna.
In a disclosure to the Philippine Stocks Exchange, the renewable project is expected to reach financial close next year while commercial operations will commence by 2025.
"Through ARI, AboitizPower is taking decisive steps towards our long-term objective of growing our renewable energy capacity and striking a 50:50 balance between our renewable and thermal portfolios by 2030," ARI president and chief operating officer James Arnold Villaroman said.
AboitizPower president and chief executive officer Emmanuel Rubio said this partnership will help in the government's goal of energy transition while still supporting the economic growth.
Under the Philippine Energy Development Program, the government targets to increase the share of renewables in the energy mix to 35 percent by 2030 and to 50 percent by 2040.
In 2022, renewable energy accounted for nearly 23 percent of the country's energy mix.
"We continue to serve the critical needs of the Philippine energy system. We are confident we are able to deliver this project for our country's renewable energy requirements," Rubio said.
Vena Energy Philippines head of business Samrinder Nehria underscored that partnering with ARI allows the company to strengthen its footprint in the country's renewable energy sector.
"We are confident that by combining our experience and on-the-ground capabilities, this project will make a significant impact in accelerating the energy transition in the Philippines," Nehria added. (PNA)