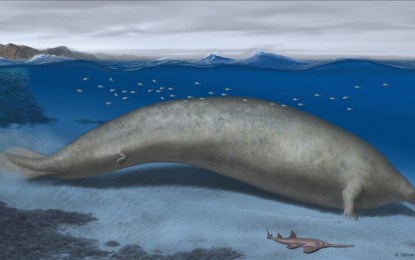 GENEVA – The Royal Belgian Institute of Natural Sciences (RBINS) announced Wednesday that the remains of possibly the heaviest animal that ever lived --an ancient whale species-- were found off the coast of Peru.
Perucetus colossus, which swam off the coast of present-day Peru 39 million years ago, competes with the blue whale for the title of the heaviest animal ever, RBINS said in a statement.
Paleontologists, including Olivier Lambert of the RBINS, estimate that while a blue whale can weigh between 100 to 190 tons (200,000 to 380,000 pounds), the newly described extinct marine mammal weighed between 85 to 340 tons (170,000-680,000 pounds), according to the statement.
The discovery suggested that whales had a phase of extreme growth in an earlier period of their evolution than previously thought. (Anadolu)