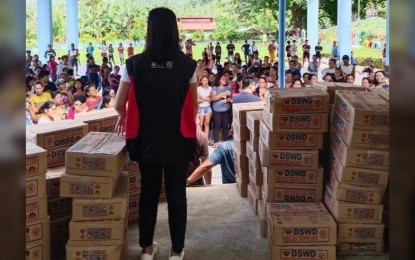 LEGAZPI CITY – The Department of Social Welfare and Development in Bicol (DSWD-5) on Friday distributed 6,418 family food packs (FFPs) to families in Camarines Sur affected by Typhoon Egay and enhanced southwest monsoon or "habagat".
In an interview, Carl James Cabarles, DSWD disaster risk reduction management division information officer, said the families were mostly fisherfolk that were economically affected by the weather disturbance.
"The beneficiaries of the FFPs mainly comprised of small-time fishermen whose livelihood were severely disrupted by the weather disturbance. The affected families were from the towns of Minalabac, Pasacao, San Fernando and Ragay," Cabarles said.
He said aside from Camarines Sur, they are now verifying beneficiaries from other provinces of Albay, Catanduanes, Camarines Norte, Sorsogon and Masbate that will also receive family food packs.
"We are coordinating with different local government units (LGUs). We also need to verify the families since we want to ensure that assistance must be given to those who are actually affected," Cabarles said.
DSWD-Bicol currently has on standby 109,036 family food packs in different warehouses and another PHP8.2 million worth of stockpile for repacking in anticipation of augmentation.
Each family food pack is good for two days for a family of five members.
He said the stockpile is composed of 62,500 kilos of rice; 9,700 cans of corned beef; 502 cans of sardines; 209,546 cans of tuna; 142,280 sachets of 3-in-1 coffee; and 45,575 cereal drinks.
On top of these, a PHP5-million standby fund is ready for additional purchase of food packs or kits as needed.
The agency has likewise prepared 74,718 pieces of non-food items worth PHP131.1 million, which include family tents, sleeping mats, family hygiene and kitchen kits. (PNA)