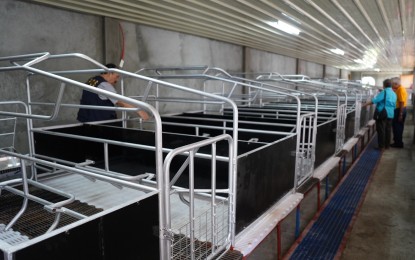 ILOILO CITY – The swine multiplier facilities established by the Department of Agriculture through its Integrated National Swine Production Initiatives for Recovery and Expansion (INSPIRE) program in two municipalities in Iloilo can help the province recover from the African swine fever (ASF).
On Friday, the DA's National Livestock Program and the Agricultural Training Institute (ATI) inaugurated two 30-sow level multiplier and technology demonstration farms in Barangay Talongadian in Sta. Barbara and in Barangay Cairohan in Bingawan, Iloilo.
DA-National Livestock Program Director and ATI-International Training Center on Pig Husbandry Center Director Ruth Miclat-Sonaco, in her message during the inauguration in Sta. Barbara, said they have been looking at Western Visayas, particularly in Iloilo, when it comes to the swine industry profile.
"Region 6 (Western Visayas) has the most multiplier farms because we look at the growth area as far as the swine industry is concerned. For Iloilo, we have two swine multiplier farms, in Sta. Barbara and Bingawan," she said.
Miclat-Sonaco added the supply coming from Iloilo is important for the people in the National Capital Region (NCR), particularly in Manila, but unfortunately, the inventory has dropped.
The multiplier farms will be complemented by the Swine Artificial Insemination sa Barangay (SWAIB), which they also inaugurated in Barangay Nazuni in Dingle town on Thursday, with genetically superior breeds, she said.
Iloilo Governor Arthur Defensor Jr., who joined the inauguration in Sta. Barbara, said the project is "very crucial and timely" because the province is recovering from the ASF.
Before the pandemic, the province was 298 percent sufficient in swine, the excess from what was consumed was shipped to Luzon.
"We lost the trade aspect; we want to recover that," he said.
The swine population has been reduced by 64.5 percent with the ASF cases found in 127 barangays in Iloilo.
In an interview, Angel Supetran Jr., chief operating officer of the techno-farm, said their building has pens for boars, sows, and piglets, and is installed with a screen to prevent access by any ASF carrier.
He added they target to dispense piglets by April or May next year with ASF-affected growers on their priority list.
The facility in Sta. Barbara is in partnership with the Central Philippine University Agriculture Retirees Urban Gardeners Association, while the Kryz Culinary Arts and Restaurant Services Institute Farmers Association will manage the techno-farm in Bingawan. (PNA)