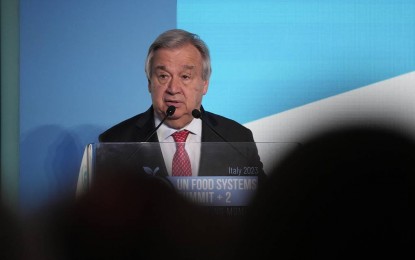 TOKYO – The shadow of nuclear war has re-emerged now that some countries are threatening to use nuclear weapons, United Nations Secretary-General Antonio Guterres said in his message commemorating the 78th anniversary of the atomic bombing of Hiroshima.
"The drums of nuclear war are beating once again. Mistrust and division are on the rise. The nuclear shadow that loomed over the Cold War has re-emerged. And some countries are recklessly rattling the nuclear saber once again, threatening to use these tools of annihilation," according to his address, read by Under-Secretary-General and High Representative for Disarmament Affairs, Izumi Nakamitsu, at a memorial event at Hiroshima Peace Memorial on Sunday.
Guterres also urged all nations to completely reject the use of nuclear weapons. He said the elimination of nuclear weapons remains the UN's highest disarmament priority.
"The only way to eliminate the nuclear risk is to eliminate nuclear weapons," he said. "We will not rest until the nuclear shadow has been lifted once and for all."
The US Armed Forces carried out the first-ever atomic bombing in history, striking the Japanese cities of Hiroshima and Nagasaki toward the tail end of World War II.
The bombings were justified as a way to accelerate the capitulation of the Empire of Japan. These attacks are the sole instance of nuclear weapons ever being used in a military conflict in the history of humanity.
According to various estimates, the explosion of the atomic bomb dropped over Hiroshima in one day killed between 70,000 and 100,000 people.
By the end of 1945, the number of victims had increased to 140,000 due to those who died in hospitals from wounds and radiation.
The list is being updated every time when a survivor dies. Currently, the total number of victims were pegged at 350,000. (TASS)