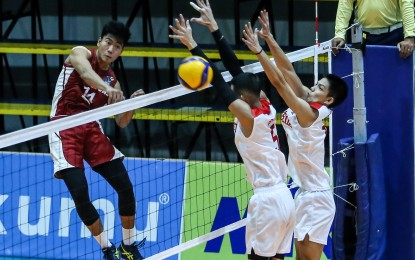 MANILA – Perpetual Help volleyball player Louie Ramirez is scheduled to leave for Japan next week to train with the Oita Miyoshi Weisse Adler, a club that competes in the top-level professional tournament V-League 1.
The 23-year-old Ramirez, named National Collegiate Athletic Association (NCAA) Season 98 and Finals Most Valuable Player (MVP) after leading the Altas to a third consecutive title this year, received the invitation for a three-week training program last month.
"I was surprised because there are so many good players here in the Philippines and they chose me. I'm so happy to be invited," the 6-foot-3 spiker told the Philippine News Agency on Sunday.
"I'm nervous because it will be my first trip abroad. I'm also excited to be training with the Japanese players" he added.
Marck Espejo (2018-2019) and Bryan Bagunas (2019-2022) both played for Oita Miyoshi Weisse Adler, which represented Japan in the 2014 Asian Men's Club Volleyball Championship.
Espejo, the Finals MVP after Cignal won the 2023 Spikers' Turf Open Conference title in March, has joined the Incheon Korean Air Jumbos.
The 6-foot-5 Bagunas, on the other hand, earned the MVP plum after helping the Win Streak Club win its first title at the Top Volleyball League in Chinese Taipei early this year.
"The invitation is a great opportunity for me to improve my knowledge in volleyball that's why I am really looking forward to the training program," said Ramirez, an incoming Hospitality Management senior.
The Dasol, Pangasinan native still has one more playing year with the Altas.
He thanked Perpetual Help chair Antonio Tamayo for the all-out support to the Altas, owners of 13 NCAA titles, and to coach Sammy Acaylar for honing his talent.
Acaylar, a former national player, saw the potential of Ramirez during the 2018 Palarong Pambansa in Vigan, Ilocos Sur while representing Malimpin National High School.
"Coach Sammy approached me, he asked if I wanted to play for Perpetual. I'm glad I made the right decision. Whatever I have achieved as a player, I will forever be grateful to coach Sammy," said Ramirez, who also acknowledged coaching staff members Michael Cariño, Joemel Sagun, Rey Taneo and John Patrick Ramos.
Acaylar said Ramirez is humble player, coachable, loyal and always filled with gratitude.
"Many tried to recruit him even though he's already with Perpetual, but he did not entertain these offers, especially his parents. The parents say they owe a debt of gratitude to the coach who trained and improved his skills. Louie is helpful and loving to his parents, that's why the Lord blessed him," Acaylar said in an interview.
Ramirez, the third among five siblings, still dreams of making the national team.
"Hopefully, I will be given a chance to play for the Philippine team," said Ramirez, who joined a tryout two years ago but was not picked.
Ramirez may not be good enough for the national team at the moment but the Oita Miyoshi Weisse Adler Club must have seen something to notice him.
"I know that I will learn a lot from the training in Japan. I am determined to improve my skills and be a better player," said Ramirez. (PNA)