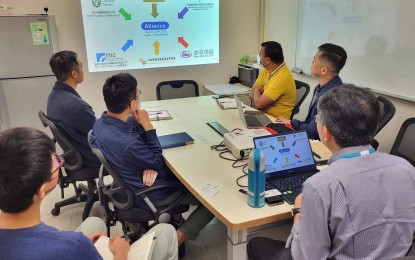 LAOAG CITY – A group of businessmen from Taiwan arrived in the province of La Union on Monday to start a week-long search for prospective public and private partnerships, particularly on environment-friendly projects.
The group consisted of Taiwanese business owners, manufacturers, suppliers and producers of green building materials who flew in from Taipei to assist public and private initiatives on climate change and renewable energy.
They represented at least 10 companies providing biomass systems, solar streetlights, eco-friendly adhesives, construction materials and energy-saving installations.
The group will be conducting site visits and investment matching sessions with key government officials and private enterprises in the municipality of Bacnotan as well as in San Fernando City, La Union until Aug. 8.
They have also set business meetings in Pangasinan, Sorsogon and some areas in Metro Manila until Friday, Aug. 11.
While in La Union, several "green" projects will also be discussed as the group visits several hotels and commercial establishments in the La Union surfing strip in Urbiztondo, San Juan.
San Fernando City and the municipality of Bacnotan have also expressed interest to adopt environment-friendly technologies from Taiwan.
Through the efforts of Taiwan's Industrial Technology Research Institute (ITRI), which builds partnerships in the country through the Engage in Green Business Opportunity Promotion Project, the solar panels' system recently installed at the Municipality of Pilar in Sorsogon will be formally turned over during the week-long visit.
"With the support of ITRI and the local government unit (LGU), we were able to successfully install a solar panel system with inverters and energy storage for Pilar's local police station," said Earl Tongol, a green productivity advocate and management consultant leading the Engage in Green Business Opportunity Promotion with the participation this time of the Taiwanese group, in an interview.
Meanwhile, the Lupon ng mga Indibidwal na Nangangalaga sa Kalikasan Inc. (Link, Inc.) based in La Union is eyeing the implementation of environmental conservation projects with the Taiwanese group.
Celso Jucutan, co-founder of Link, Inc. and the current environmental management coordinator of the Don Mariano Marcos Memorial State University said that green initiative projects will also be introduced in the municipalities of Bayambang and the city of San Carlos in Pangasinan particularly on bamboo processing or the making of wood panels and bamboo furniture.
The delegation will also converge in Metro Manila to meet with major hotel chains, contractors, and real estate developers based in Pasay, Quezon City, and Manila.
Potential investments with Taiwanese companies -- Alliance, Ecolohas, Dian Zhuan Shuan, Zirco, Everlight, PFTA, Heat Insulation Building Materials, Nagaoka Machinery, First Metal Products and Wu Ji Shan Hu Zhai -- are expected to help the Philippines achieve its commitment on greenhouse gas emissions reduction and avoidance by 75 percent from 2020 to 2030. (PNA)