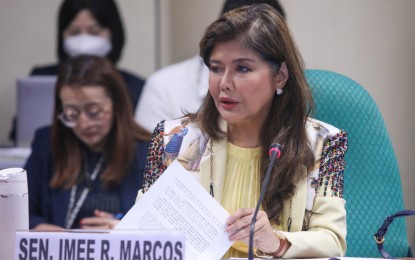 MANILA – The move to reform the country's party-list system has started as discussion on Senate Bills Nos. 179 and 201 filed by the panel's chair Sen. Imee Marcos and Sen. Ronald dela Rosa, respectively, began on Monday in the Senate Committee on Electoral Reforms.
During the hearing, Marcos cited the Supreme Court decision in Atong Paglaum Inc. vs. the Commission on Elections (Comelec) which upheld the party-list structure set forth in Section 5 of Paragraph 1 and 2 Article 6 of the 1987 Constitution, which states that it cannot possibly be disputed and that the party-list system is not merely for sectoral parties, but also for non-sectoral parties.
"Unfortunately, such interpretation made also the party-list system susceptible to abuse with the opening up to non-sectoral parties. Likewise, the voice of those who are truly marginalized and underrepresented seemed to be drowned out in the sea of political parties and party-list groups with questionable if not entirely non-existent advocacies," Marcos explained.
"It's obvious that these circumstances have helped create the evil that was sought to be prevented by framers of the Constitution -- that is the ever widening social-economic and political inequality in our representation," she added.
In her version, Marcos seeks to classify the party-list system into political/coalition and sectoral organization with corresponding qualifications and additional guidelines.
Meanwhile, Dela Rosa is suggesting that the law should "focus on the outright refusal or cancellation of registration of any national, regional or sectoral party, organization or coalition that advocates subversive dogma, and pursuant thereof, undertakes criminal acts towards this goal," which he said was part of his conclusion from the series of hearings conducted by the Senate Committee on Public Order and Dangerous Drugs on the missing minors who were allegedly recruited by leftist groups in the 18th Congress.
Dela Rosa is also pushing to insert additional ground for refusal or cancellation of registration the direct or indirect participation of the party or organization in acts detrimental to the best interest of the government, to overthrow the government or diminish its powers, or to be associated by any means to rebels or proscribed terrorist persons or groups pursuant to Republic Act 11479 or the Anti-Terrorism Act of 2020.
"My goal in proposing the amendments to our Party-List law is to ensure that those who have been granted the opportunity to participate in the party-list system are those who could genuinely contribute to the formulation and enactment of appropriate legislation that will benefit the nation," he explained.
"There is no place in our government for those individuals or groups who aim to destabilize our duly constituted government from within. I hope we are one in putting an end to the bastardization of the party-list system. Let us restore the dignity of this system as originally intended by the framers of the 1987 Constitution," he added. (PNA)