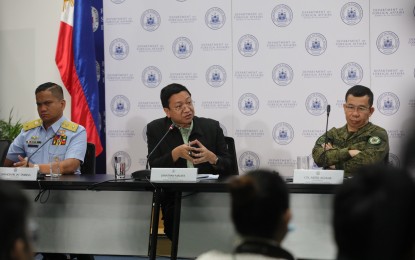 MANILA – The Department of Foreign Affairs (DFA) on Monday officially summoned Chinese Ambassador to Manila Huang Xilian and demanded the cessation of illegal and dangerous activities in the West Philippine Sea (WPS).
In a statement, the DFA said a "strong protest" was delivered by DFA Undersecretary Ma. Theresa Lazaro in a note verbale to Huang following the water cannoning and blocking incidents during a resupply mission for Philippine military personnel stationed at BRP Sierra Madre in Ayungin Shoal on Aug. 5.
"The DFA firmly asked China to direct its vessels to stop their illegal actions against Philippine vessels, and to stop interfering in legitimate Philippine Government activities," it said.
It expressed disappointment that its counterpart through the maritime communication mechanism was unreachable for "several hours" while the incident was ongoing.
"[We] hope that the Chinese side would reciprocate, with the same sense of urgency, the communications initiated by the Philippines as has been demonstrated by the Philippines when receiving communications initiated by the Chinese side," it said.
It noted that the Ayungin Shoal is a "low-tide elevation that cannot be appropriated or subjected to sovereignty claims."
"The final and binding 12 July 2016 Award in the South China Sea Arbitration, expressly stated that Ayungin Shoal is 'within the exclusive economic zone and continental shelf of the Philippines,' over which the Philippines has sovereign rights and jurisdiction," it said.
The recent incident, it said, is contrary to China's "Flag State obligations" under the 1972 International Regulations for Preventing Collisions at Sea (COLREGS) which requires states to take measures to ensure safety at sea and prevent ship collisions.
"The CCG (China Coast Guard) vessels' dangerous maneuvers restricted the Philippine vessels' navigational path, thereby increasing the risk of collision, in violation of Rules 2, 7, and 8 of COLREGS," it said.
On Saturday, two Philippine Coast Guard (PCG) vessels were escorting two indigenous boats chartered by the Armed Forces of the Philippines (AFP) for the resupply mission when they encountered six larger CCG vessels, two Chinese maritime militia vessels, and three People's Liberation Army (PLA) navy vessels.
The boats and the PCG vessels—meant to deliver food, water, and other supplies to Ayungin Shoal—were shot with water cannons and repeatedly blocked for over an hour by the Chinese ships resulting in several near collisions. (PNA)