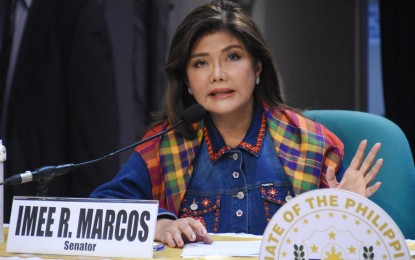 MANILA – Sen. Imee Marcos urged on Tuesday the Department of Foreign Affairs (DFA) to demand an explanation from Chinese counterparts about the recent Chinese Coast Guard's water cannon attack on the Philippine Coast Guard's (PCG) resupply mission to Ayungin Shoal.
Marcos emphasized that both the Philippines and China are co-signatories to the United Nations Convention on the Law of the Sea (UNCLOS) which upholds the concepts of sovereign rights within a country's exclusive economic zone and of innocent passage within a country's territorial sea.
"It is urgent for the Foreign Affairs and Defense departments to demand an explanation from their Chinese counterparts for the unwarranted and patently illegal firing of water cannon on our Coast Guard," Marcos said in a statement.
Like other senators, Marcos condemned the incident urging the government to modernize the PCG.
"We must also see to it that our Coast Guard becomes better equipped but relies less on foreign countries that have their own national interests to pursue," she said.
On Monday, Sen. Christopher Lawrence Go expressed his confidence that President Ferdinand R. Marcos Jr. will uphold the country's sovereign rights over the West Philippine Sea with the assistance of international partners.
Go emphasized that this issue does not solely concern the Philippines but also the entire world calling upon members of the international community to demonstrate sincerity not just in words, but in actions, in respecting other nations.
In his capacity as vice chairperson of the Senate Committee on National Defense, Go expressed faith in the dedication of the Armed Forces of the Philippines and the PCG in protecting the national interest in the West Philippine Sea. (PNA)