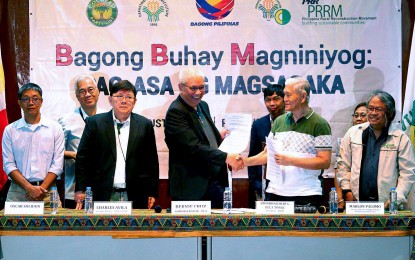 MANILA – The government through the Philippine Coconut Authority (PCA) and coconut farmers are working together to help improve the country's coconut sector.
This came as the PCA, the Confederation of Coconut Farmer's Organizations of the Philippines (CCFOP-CONFED) and the Philippine Rural Reconstruction Movement (PRRM) signed a memorandum of understanding on Wednesday aimed at pursuing massive planting and replanting and reinvigorating the coconut industry.
"Under the leadership of President Ferdinand R. Marcos Jr., and the Bagong Pilipinas brand of governance, we expect to significantly increase coconut productivity, boost diversified production, and engage more of our farmers in higher value-adding activities, which would contribute to economic growth and substantially increase and even double farmers' incomes," PCA administrator Bernie Cruz said on the sidelines of the MOU signing at the PCA office in Quezon City.
The administrator also highlighted the strategies of the PCA to increase coconut productivity through massive planting and replanting; intensify farm diversification; foster coconut processing by small and medium-sized enterprises; and revitalize coconut research and development.
"We started a month ago, the gathering of planting materials nationwide," he said.
Cruz, CCFOP-CONFED executive director Charles Avila and PRRM president Edicio dela Torre signed the MOU.
The partnership also aims to foster cooperation, strengthen partnerships with coconut farmers' groups and organizations, and expand the reach of support services, in line with PA's goal to reinvigorate the Philippine coconut industry.
Cruz noted the urgency of helping coconut farmers, organizing and strengthening cooperatives and providing support services such as shared facilities and processing centers to capacitate the coconut planting and replanting program.
He added that such interventions should encompass all provinces viable for coconut farming and further enhance best practices of the vibrant coconut industry in provinces such as Camarines Sur and Quezon, as well as in the highest coconut-producing areas in the Davao Region, Zamboanga Peninsula and Northern Mindanao.
There are 68 provinces in the country that are producing coconut.
The Philippine Statistics Authority has reported that among the top agricultural exports of the country by value in US dollars in 2021, coconut oil (USD1.431 billion), desiccated coconut (USD396 million), and copra oil cake (USD67.54 million) ranked first, fourth, and 10th, respectively.
On the other hand, the emerging non-traditional coconut products such as virgin coconut oil (valued at PHP26 billion worth of exports in 2021), coconut concentrates (PHP4.40 billion), and coconut milk (PHP2.44 billion) have also risen rapidly in terms of share to export earnings, thus making increased production and product diversification key priorities of the Authority moving forward for the industry to meet and maximize increasing global demand.
Created on June 30, 1973, under Presidential Decree 232, the PCA is the sole government agency tasked to develop the coconut industry to its full potential in line with the new vision of a united, globally competitive and efficient coconut industry.
It was made an independent public corporation by PD 961, which first codified the laws dealing with the development of the coconut and other palm oil industry in the country, as subsequently revised by PD 1468, otherwise known as the "Revised Coconut Industry Code," which presently serves as the PCA Charter. (PNA)